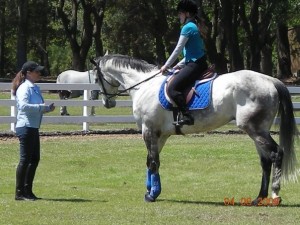 Vinni and I taping a tv episode with Julie Goodnight about teaching a horse to jump.
How long have you been riding horses?
I started riding when I was around 7 I think. My dad took me to a friends house that had horses when I was young and fascinated by them.   It was his friend, who later I deemed Uncle Billy, who taught me to ride. He started me off riding his broke mare that was good with kids and slowly moved me up into his barrel horses and then into babies that weren't broke. I attribute my great riding skills to him. He taught me to ride with a saddle and bareback. He never held me back and let me learn my own lessons when it came to horses. When I was old enough to own my own horse he found me the cutest appaloosa named Freckles and trailered her all the way to FL for me. (I lived in Fl till I started high school.) It was the best day of my life to see him pulling up with my FIRST horse! I've owned a horse or two ever since then.
What type of riding do you do?
I don't ride just one style. I like my horses to be all-around horses and I like to ride different disciplines. I started out riding Western running barrels and team penning but then moved into Hunter Jumpers. I used to love watching the girls at the barn riding their horses bareback jumping jumps. So I taught my barrel pony to jump..can't say she loved it as much as she loved to run but boy she gave it her all. When I moved to NC in high school I realized more people here were into Dressage and Eventing so I gave that a "short" try. I didn't enjoy that very much. I'm not a fan of jumps that don't fall and going fast over them. I like to know that my horse won't get hurt should they knock the fence. Although it wasn't only the fences not giving to the horses but when I was young I was in a jumping accident and that started my fear of getting hurt. Maybe I'll make a post about that. Anyway, now in my older days as I like to call them I'm finding myself going back to my roots. I've recently started barrel racing again and sorting. I love cow horses! I want to try out cutting and reining and eventually even try roping.
What kind of horses have you owned?
I think for this I'll make a list. It will be easier to name them all and say what they were.
1st -Leased – QH Gelding named Winchester : Western/Bareback Trail riding
2nd – Appaloose named Freckles : Barrel Racing/ Hunter Jumpers
3rd – Thoroughbred named Nala : Rode her in just Hunter Jumpers (She won me many Champion & Reserve Champion ribbons)
4th  (leased) – Paint/QH named Sugar: Rode her in just Hunter Jumpers (She won me many Champion ribbons)
5th – Saddlebred/Paint named Sassy: Rode her in Eventing & Dressage
6th – TB named Gentry: OTTB that I retrained and sold as a Hunter Jumper. He has gone on to win at shows with his new owner. 🙂
Current Horses – QH named Jet and Paint named Te who are both retired now. Gracie and Rumor are my go to riding horses that I mostly trail ride now.
Want to know more about me? Check out this post on A-Z about me.