One more day ya'll..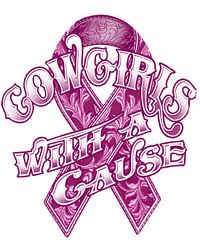 One more day of work and then it's play time. For those that don't live in the area, this weekend is a big weekend for cowgirls around here. Tomorrow starts the first day of Cowgirls with a Cause which is an all weekend event where cowgirls wear pink to support breast cancer and compete in Barrel Racing, Team Roping, and Breakaway Roping. Since Cowgirls with a Cause is a non-profit organization, 100% of the proceeds benefit the prevention, early detection, follow-up screenings and treatment of breast cancer for those women who cannot afford these lifesaving services.  So if you can go out and watch all the cowgirls compete and check out all the items up for auction and see what all the vendors are selling. Cowgirls with a Cause is held at Lone Hickory Arena in Yadkinville.
Wish I was going to be competing with all the great cowgirls that will be there but unfortunately it didn't work out for me this year. Fingers crossed Gracie and I will be there next year though.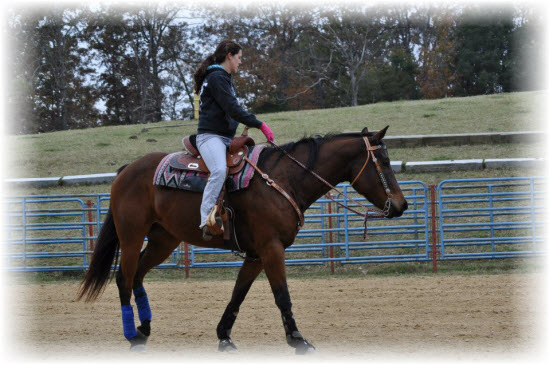 So let's talk about Gracie and how she's been doing since my last update.
The first week was about taking it easy and just getting her moving again. It involved lots of trotting on the lounge line during the week. On Saturday I had plenty of time to work her and wanted to push her a little more, so I saddled her up. I started out riding her around the arena slow trotting and then long trotting. She didn't have any problems while riding so I was ready to start loping some circles.
This is when the ride went from fun to aggravating.
To preface this, let me say Gracie has had problems getting her right lead since I bought her.  I realized after the chiro visits that she got better and started picking up her right lead on her own. It turned out the lead problems were from different parts of her body being out of alignment. I'm sure her stifle problem plays a role in it too. Well right now the vet I'm working with recommended not having the chiro out for a little bit.
Needless to say, on Saturday Gracie did not want to pick up her right lead. I tried various many things to get her to pick it up but nothing was working while I was on her. So I got off and tried lounging her. After many many transitions, she finally picked it up. It was obvious while watching her that it was awkward for her. Since she doesn't use it much she was very off balance and just silly looking. I kept her loping on it until she appeared to relax into a good rhythm. Then I gave her a break and hand walked her around. After she cooled down some I got back on and worked on moving her off my legs and flexing. The whole workout was an hour maybe a little longer.
Sunday it was apparent she was sore. The first sign was watching her walk. She just was sluggish and stiff. When I went to put my saddle on she pinned her ears and swished her tail. Being as I'm a softy, I didn't want to make it worse for her and put all my tack away and just decided to lounge. I lounged her for 20 mins at the trot.
The rest of the week was on and off riding with lots of trotting under saddle and loping on the lounge line. Towards the end of the week I started to incorporate trot poles into our workout.
Last week was a much better week for Gracie then the week before too. I can only think of a couple times when she locked up but it wasn't a constant thing. It would happen once or twice when she was walking and then stop. After our workouts she didn't have any problems and as the week went on the problem seemed to go away completely.
For the most part, it seems like everything I've been doing is helping. I'm giving her the Estrogen shots on Sundays. Giving the shot still sucks and I HATE doing it. It takes me 30 -60 mins to talk myself into doing it. I'm such a wuss. I just can't stand the thought of it hurting her or doing it wrong.  2 shots down – 3 more to go. Thank Goodness.
Anyway, let me know what questions you have about her recovery.  Any questions I get, I'll answer in the next post. J
Have a good one ya'll!