Update: The family is doing much better now. Both Brock and Leisha have recovered from their injuries and are back to training and riding.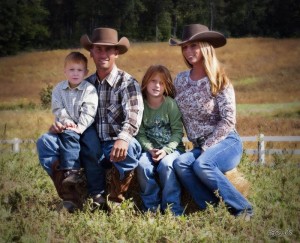 December has been a tough month for my friends, Leisha and Brock Griffith. Earlier in the month Brock was kicked by a horse he was training and it broke his neck. He's had to undergo surgery to repair the damage and has been bed ridden since. Well just yesterday Leisha had a freak accident on her horse and sustained a severe break in her left leg. When I say severe I mean bone showing through the skin. What makes this such a sad story is that they earn their living training horses and now with them both out of work it's going to be hard for them to provide for their two small children.
Well another friend of mine posted this message on Facebook and I thought I would post it here as well:
"Hey friends, there is a couple in North Carolina that could sure use our help for the holidays. A few of you may know that fellow Extreme Mustang trainer Brock Griffith sustained a serious neck injury a few weeks ago and is unable to train horses for a while. Today his wife, Leisha Welborn Griffith, was stepped on by her horse and sustained a compound fracture to her leg. She is in surgery now. This will make it extremely difficult for them to earn a livelihood (both are horse trainers) and provide for their children.
If you would like to help this family through a tough Christmas, donations can be made via paypal through their website http://brockgriffithhorsemanship.com/.
For you North Carolina & South Carolina friends, there is a benefit cowboy obstacle course event being held THIS WEEKEND to help support this family in their time of need, and there will also be an auction for all sorts of cool items & services to raise money."
So I ask that if you are able to spare anything to help out this family it would be much appreciated. It doesn't have to be in the form of money. I'm sure gifts for the children would be much appreciated. Please contact me either by leaving a comment below or sending me an email.