Have you noticed more and more local businesses closing in your area? Did you know it's partially because they have a hard time competing with online companies and prices?! I hear this all the time from friends who own businesses who tell me they just can't match prices that customers find online. Especially when it comes to horse products. As a very price conscience consumer myself, I do my homework and always shop around the get the best price whether it be online or in store. However, this year I'm going to make more of an effort to buy what I can afford to in stores and not online. I want to see local businesses survive in my community, especially those that sell anything horse related.
So in an effort to help these companies out, I'm going to start a new series of posts this year that will feature local equine related businesses in NC. It might be actual stores you can shop at or various equestrian related services offered by an individuals.
Introduction to Rambling Cowgirl Photography
Today I want to share with you a local equine photographer. Well I say equine but the honest truth is she takes lots of different pictures which most of the time include horses but is not limited too. (Psst – Read to the end to get details on how to get a free session with Leesa)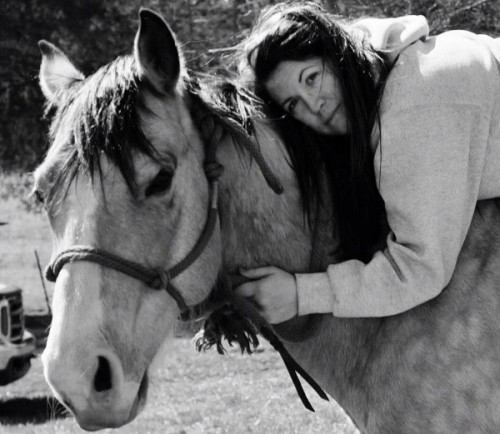 I'd like to introduce you to Leesa Teague the owner of Rambling Cowgirl Photography located in Pittsboro,NC. Leesa is a friend of mine that I've known for quite a few years now. She is also a fellow horse owner, rider and lover of animals.
She started Rambling Cowgirl Photography a couple years ago after discovering how much she loved taking pictures and realizing how good she was at it.
Leesa took the pictures of Rumor and I. She also took family pictures for me that day that I was able to use for the Christmas card I sent out this year. I loved those pictures so much that I asked her to take pictures at a show I was going to and she did. I don't think there isn't anywhere she wouldn't go if you asked her. She just loves to take pictures that much.
Services Offered by Rambling Cowgirl Photography
Equine Photography Services include pictures of just your horse, pictures of you and your horses, pictures to use for Advertising and Pictures IDs of your horses.
Family Pictures
Engagement Pictures
Organized Rides – she recently took pictures of the American Heart Association ride at Myrtle Beach. So if you were there, go look through them. Who knows, there might be one of you in the gazillion pictures she took. 😉
Horse Shows – She's attending lots of horse shows and rodeos and taken pictures. If you'd like to see her work you can check all her pictures out here as well.
Landscape – she has taken some beautiful landscape/scenery pictures that she sells as well. They range from images of the nc mountains to the coast.
Here are a few pictures she has taken of different things.















Time for a Contest
**Giveaway Now Closed**
Congrats to Susan for winning the FREE Session!!
Rambling Cowgirl Photography has been gracious enough to offer her services to free -within 50 miles of Pittsboro,NC- to the winner of our sharing contest!
To be entered in to the contest you must do these two things:
Like her Rambling Cowgirl Photography FB Page and tell her the NC cowgirl sent you!
Share the original post on FB with your friends. (you can find it here and all you have to do is click share)
Contest closes Wed. January 14th at 10pm. Winner will be announced shortly after that! Good Luck!