I don't know about ya'll but man I am addicted to Pinterest. I have found so much stuff on there that I wouldn't have seen otherwise. Just in case you haven't heard of Pinterest let me give you a brief introduction.
Pinterest is a place for people to "pin" images onto their "boards." You can categorize your boards however you want and as far as I know you can pin as many images to those boards as you want. Here is a screen shot of my pinterest profile.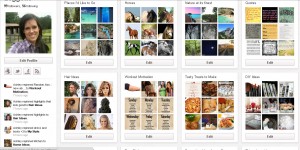 I'm so glad I came across this website because I absolutely love it! I've found so many great DIY ideas, cooking recipes, Motivational Qoutes, Decorating Ideas, etc. I want you guys to be able to enjoy it just as much as me, so for anyone who doesn't have an account and wants one, here's your chance to get an invite!
I have 4 invites I can give out. To make it fair for everyone I ask that you leave a comment below letting me know you would like an invite. I'll take all the comments and put them into Random.org to select the 4 recipients. To increase your chances of getting an invite, you can share my facebook page with your friends. Once you've shared the page come back and leave another comment letting me know you did it. I'll leave this open until Friday at Midnight. That way I can get the invites out and the lucky recipients can start pinning this weekend!
Can't wait to share this great site with you and enjoy some pinning together! 🙂