***The Giveaway is now closed****
After putting the numbers into Random.org, the winner is Kathy Irwin! Kathy I will be contacting you shortly to get your address so I can send you the cap! Thanks to everyone who participated!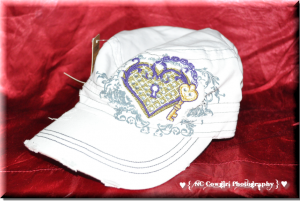 With Black Friday coming up in a few days I thought now would be a good time to do a giveaway! I'm sure we all love shopping, maybe not so much the guys, but I know how stressful Black Friday can be because of all the lines and crazy rude people. So I thought I would add some fun in this week and giveaway this hat from The Casual Cowgirl Boutique!
Here's the Details:
How to Enter:  Comment on this post and tell me why you want this hat! Maybe you want to win it and give it as a gift for the holidays or maybe you want it for yourself?!?!  For a second entry, share The North Carolina Cowgirl FB Page with your friends and leave a comment on the wall letting me know you shared.
Giveaway Ends: Sunday, November 27th at 8pm EST
Number of Winners: One
and the Fine Print…: All entries will be collected and then the winner will be selected using random.org and announced on Monday as an update to this post, so be sure to check back! Item will only be shipped to USA states, sorry if you're overseas.
 Note: This is not a sponsored giveaway. I'm doing this giveaway as a thank you for those of you who are visiting this cowgirl's blog. I hope you enjoy the trails of life I'm sharing and will share in the future!