This past weekend was my 4th barrel show with Rumor and we are finally starting to figure each other out. I'm so glad that I have Rumor and am able to further my barrel racing career on her because she is exactly what I needed. Rumor knows her job and I'm positive she knows how to do it well; however, she makes me work hard to learn what my job is as her jockey. She doesn't let me get away with sitting back and doing nothing while she does all the work. She wants me to push her just like I need her to push me. In my opinion, it's what's helping our relationship to grow and us to get better together.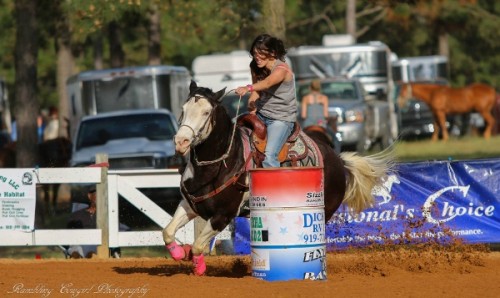 (Photo Credit Rambling Cowgirl Photography)
To understand how far we've come, let me tell you the stories of our first shows…
Our first show was last year in November which was a few weeks after Rumor came here. It was at a bigger indoor arena that I had previously raced Spur at a couple times. So I was comfortable with this pen and how things were run. I showed up to this show early enough to ride Rumor around and get her warmed up. I signed up for 2 exhibitions and an open run. Well our exhibitions didn't go that great. She wasn't listening to the bit I was using and completely ran through the pattern. When the announcer called my name for my open run, my nerves were through the roof and my heart was pounding through the skin of my chest. To make matters worse, we had alley issues. Rumor didn't want to go down the alley way into the arena. She was backing up and not moving forward. Luckily, a girl was on her horse nearby and offered to walk us in.
We make our way down the alley and get close to the end and we're off. Full speed ahead. Turn our first barrel a little too wide come out and are running fast to the second, have an excellent turn around the second, run fast to the 3rd, spin around it perfectly and I start kicking for home and boom! Rumor starts bucking. LOL First instinct was to pull her up and not push her harder, so of course we go from a gallop to a lope. Not a slow lope but we dang sure weren't running. This caused us to lose a couple seconds off our time and resulted in us being about 2-3 seconds off the leader.
Can you guess what caused her to buck?! Let me help you..it was my back cinch. I put one on her because I ride all my horses with one and didn't even think about the fact that she might not be use to it. I mean, hell, we rode everyday at the farm with it on there and not one time did she act funny. All I can think of is that it got tight around the turns and she wasn't to sure of it.
In the end though, I left the show with a big fat smile because I knew that we would have had a faster run had I pushed her through that little episode and regardless, it was fun.
Our second show was at a smaller indoor arena. Going into this show I knew we had to work on our alley issues and I needed to keep my nerves at bay in order to keep her from getting nervous. I did one exhibition on her and that went perfect. When it was time for our run, we had 0 problems walking down the alley and going into the pen. But this time..I didn't push her. I saw horses tripping around the barrels and the person who went in front of me actually fell around the 2nd. Since I care more about my horse then making a fast clean run – and because I didn't want the same to happen to us – I didn't kick. Not 1 time. Needless to say, our time was WAY off the fastest time (like 4 seconds off) but hey, we left all the barrels up and I still had fun. This was just what we needed too. Rumor earned more of my trust at this show because she listened to me and instinctively I think she knew I was uneasy about the pen.
Our 3rd show, well let's just say my nerves got the best of me. This show turned out to be a lot BIGGER then I thought it would be. There was 257 entries in the open! The shows that I had been going to are much smaller with maybe 120 in the open. So I was a little intimidated that there were so many riders and so many that I knew were good. I let my mind do too much thinking which led to my nerves being shot! I just wanted to make a pretty run, leave the barrels up and be FAST. Oh and did I mention this was a new arena to the both of us and a 2.5 hour drive from home and I got there too late for an exhibition. (4 hours before the show was set to start and exhibitions were already sold out!!) Anyway, again at this show we had alley issues. We walked great into the alley and then when it came time to run, I guess I made her nervous from my nervousness and we ended up backing all the way back out of the building. Then it took me FOREVER (as you'll see in the video) for me to get her to even go back up the alley and into the pen. By the time I got her going, I think mentally I was just to worn out to even push. But hey, we didn't knock down any barrels, we were just slow.
At this point, I knew I was going to have to get my nerves under control. Looking back I realized this:
I got on and warmed up way to early, which meant more time walking around waiting on my turn to run. Which didn't help my nerves. Moving forward, I just need to give myself enough time to warm up and then be ready to run.
I've got to EAT and DRINK! I was so nervous at this show I don't remember eating much of anything or drinking. I started to feel the affects of being dehydrated right before my run. I felt super nauseated and so so thirsty.
I can't let the alley issues bother me. I've got to remember to kick and ride! If I don't push, Rumor won't give me all she's got.
I have to remind myself, it has to be FUN above all else and that I'm still knew at this. It will take me awhile to be as good as the rest who have been doing it much much longer. The fact that I have a great horse who helps me learn and doesn't let me get away with sitting back and doing nothing, is a blessing and will only make me that much better of a barrel racer.



Now for our 4th -and most recent- show which was this past weekend. We did MUCH BETTER! We still had some problems going into the arena but it wasn't near as bad as the last show. If I can just keep myself from getting so nervous we probably would be fine. We didn't have any problem walking in for the 2 exhibitions that we did. So that leads me to think, it's just me making her nervous before our runs. This time our turns were better, still a little wide going into first, but the rest were good and going home we kicked it up a notch! I was kicking!! LOL. The 1st place 1D time was a 15.17 and our time was a 17.74. We were just out of the 4d times but hey we improved our time from the previous show by 2 seconds and had no barrels turned over. Was I disappointed we weren't a little faster, yea. But I still left having fun and am ready for the next show.
Sorry about the poor video quality. If anyone knows how to get better quality uploads from your phone to Youtube, please let me know!
So Tell Me
What do you do to keep your nerves in check at horse shows?
If you're a barrel racer, how long did it take you to get comfortable running fast and have a lot of confidence?