Hey Ya'll! How was your weekend? Did you do any barrel racing or riding?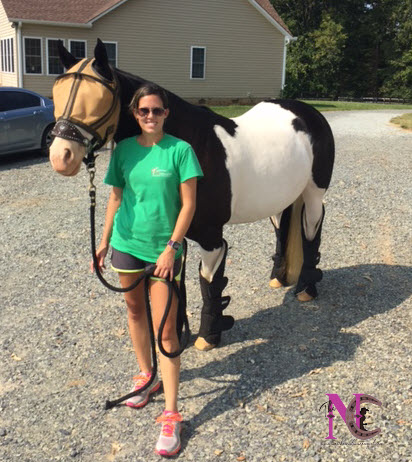 Rumor and I went to a barrel race this weekend and despite being super out of shape and having no practice we did pretty decent. I've spent the last few weeks just riding and getting her wind up and haven't even worked her on the pattern, so wasn't sure what to expect at this show. I'm happy to say though, it was fun and we did good. The hubby even went and cooked us food while we were there! 🙂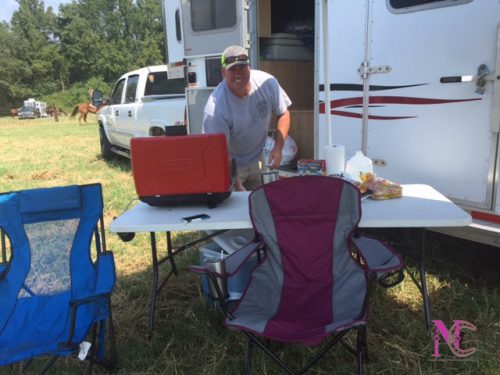 Barrel Race Recap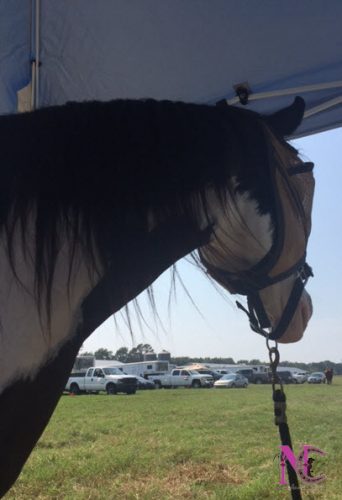 Like normal, I decided I would go late and not exhibition. This seems to work best for us and gives us less time to get worked up and nervous. This time I was draw 66, which was just about the middle of the pack. Around the 40th rider is when I decided to tack up and get on. It was so hot that I didn't want to warm her up to much because I was afraid she would get to hot and tired before our run, so this time we just walked around until I knew her muscles were warmed up and good to go. Shoot, walking around she was sweating like a pig and so was I.
I'm not sure if it was the heat or a change in us, but this show we both were a little calmer then we've been at past shows. She wasn't getting too anxious and I wasn't either. When I heard my name called I started walking her towards the alley and at this point she started to act up and not wanting to go. She would take a few steps forward and then stop. Knowing she was going to do this, I decided to wear spurs. I thought that might keep her moving forward better then me just kicking. I think it did help some but we still ended up needing someone to walk beside us. With another horse there, she goes right in with no prob. So anyway, we get to the alley, start walking down it and right before it opens up we take off running.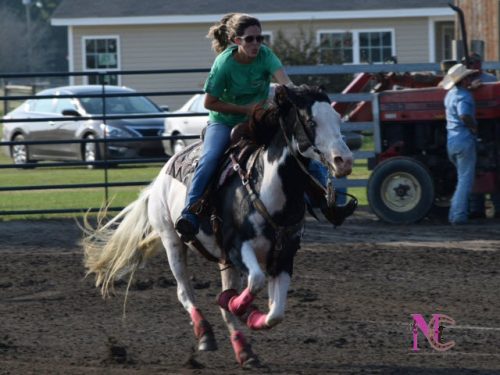 We run into the arena a little faster then we typically do, which didn't set us up to well because we ran past our first and came out wide. Then going to second we tried to make up a little time, turned second pretty nice and then ran to third. At third, we ran a little past it again and then ran for home. Despite not having the best run, it was still a fun ride and I remember laughing as we rounded the third barrel. My cousin went with me and he actually got a picture of me cheesing. LOL.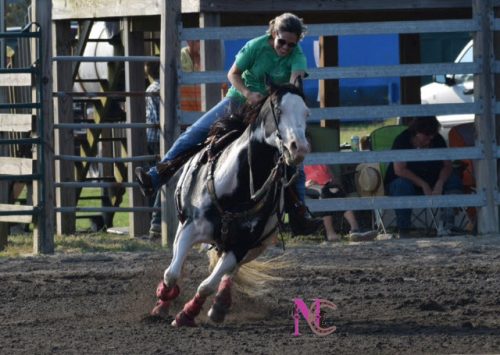 Looking at the video and even thinking about our run, I know there are somethings I need to work on and get better at. First off, our entrance needs work. I think I need to either haul to an arena or set up an alley at home, so we can get use to walking in with no issues. I get nervous and I know Rumor feeds off that, so it could be an issue I have and not her. If we can get use to calmly walking in, it will help us set up better for the first. For this run, I think that was our biggest issue. I didn't visualize the pattern before we started running, we just went.
Getting to first, I need to remember to sit back and check her up before the turn. This will keep us from blowing past it and then coming out wide and not running straight for 2nd. For the most part, our second barrel is always good and typically our 3rd. If I do remember the same thing for 3rd as I do for first, then I think we can shave some time off and run a little faster. We've been running consistently in the cracks of 3D which is great, but I know we can do a little better if I get better. Rumor listens so well and knows her job so well, that I really think the problem is me and not her. I'm not seasoned as well as her and just need more practice. 🙂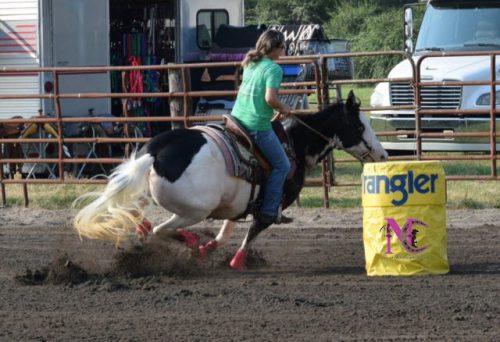 So anyway, all in all a great barrel race! I ended up leaving after my run because I thought I would stay in the 3D cracks and as luck would have it, a guy who ran near the end, had a smoking fast run which pushed me back to 3rd in the 4D! Which meant I won money! Sadly, I wasn't there to get it and snap a pic of our first check, but hopefully we'll have more money runs. Haha
So Tell Me..
Do you reflect on your performances after a show? What do you do to get correct your mistakes and get better?
Read our Past Recaps: