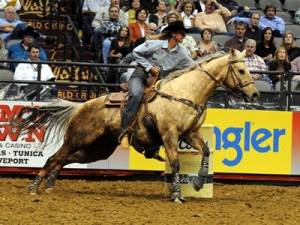 (Source)
Sherry Cervi, one of the greatest barrel racers in the world took a spill last night in round 6 of the NFR. Sherry and Stingray turned the first barrel and headed for the second, as Stingray was rounding the back of the 2nd barrel her feet slipped out from under her and she went down. Sherry's foot gets caught under Stingray as she falls and as Stingray gets up, Sherry comes off. You can see Sherry is highly disappointed but also possibly hurt. It's one of those moments that as it happens your hand hits your mouth and you stop breathing. Your hoping neither Sherry nor the horse get hurt and your in disbelief it happened.
Unfortunately, this type of accident happens in barrel racing. Luckily this time both horse and rider are ok and will go on to finish competing.
Sherry, my thoughts and prayers are with you and Stingray as you continue on your journey in the NFR 2012. You both are amazing and I wish you the best!