Today is a bitter sweet day. I'm a little sad but happy at the same time. The sadness: I sold my blue truck and today it will be picked up by it's new owner. The happiness: I picked up my new trailer from the shop and my "new" (using that term loosely) truck pulled it great.
I couldn't wait to get it back from the shop and start packing my stuff in it. Waiting 2 weeks for it to be finished was harrrdddd! Like any new toy, I just wanted to push all the buttons and put my stuff in it. Finally got to do that last night. 😀 Well I put some of my stuff in it. I still have a barn full of stuff that I have to pack into it, but I have to figure out how to make it all fit. Since the front is LQ, I can't store anything up there but I'm thinking I can make the stud stall my storage area as long as nothing will move around and spook the horses. So we'll see..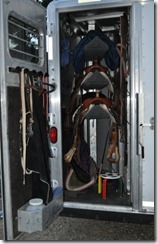 So here's my new truck! The reason I say "new" is because it's not really new to me. It's my boyfriends truck that he agreed to sell me. This truck pulls much better then my blue truck and honestly..I just like it better. It matches my trailer. 😉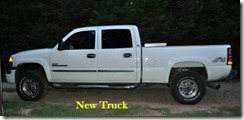 Anywho, on to the trailer update I promised to share. So if you remember when I bought the trailer, I said I got a good deal because there were some repairs that needed to be made. Well here's what needed to be done:
1.   All the windows needed to be completely rebuilt because they were rotten inside. See the old Exiss trailers like this one, were made with treated wood. The treated wood in combination with the metal and aluminum caused a chemical reaction which meant the breakdown of the inside of the window. This is a very common problem with these trailers and many people have complained about it. Exiss will replace the windows for $600 a window, however, I found a place here in Greensboro that could rebuild the windows and save me money.   
      In the before picture you can see that the second window barely shuts. There are black screws in the first and second window from the previous owner trying to keep everything together. Something you can't see is that the hinge on the last window was broken in two so when I went to drop the window it came completely off. The second windows hinge was also messed up and needed to be replaced.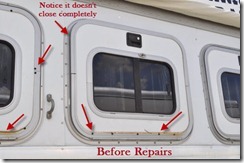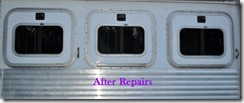 2.   The hole inside the second stall of the trailer also needed to be fixed. I'm not sure how a horse was able to do this but it was there and it was a hazard so it was at the top of the list to fix. You can see they smoothed out the rough parts of the hole in order to make the new piece fit flush against the side. Then they patched the hole with this new piece of aluminum and sealed (for lack of a better term) it so there were no rough spots. Not bad eh?!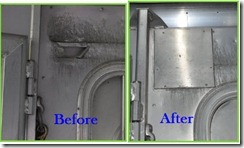 Those two things were the major issues with the trailer that needed to be fixed. When I picked it up yesterday I was amazed. I couldn't wait to get it home and load one of my boys into it. The reason I liked this trailer so much was the amount of room the horse stalls appeared to have. Te and Vinni are both very big boys and I have a tough time finding a trailer they can fit in. So of course, first thing after getting it home, I grabbed Te and loaded him in it. As I thought, he fit perfect! He actually had 2 ft give or take to stand comfortably. I can even add a corner feeder in the stalls and he would still have room. Sooo happy! Now they might actually enjoy going places.
Sooo, wondering what I paid for all this work?! Huh, huh, are ya?? Well here's the breakdown..
Windows were $150 each.
The hinges I bought from a guy named Bill. I found his information on the internet and heard he makes new hinges that are great. So I gave him a call and he sold me 2 hinges for $250. UPDATE 10/17/18: I get so many emails asking for Bill's number, that I decided to just publish it here. Phone number for Bill is (716)983-6097. Email is horsesaleinfo@yahoo.com. (If you find that any of this information is no longer good, please let me know so I can remove it.)
Total: $710 for the trailer repairs and hinges. Not bad considering if I had to get windows from Exiss it would have cost me $1800 plus the hinges plus labor to put them in. So I definitely feel like I got a great deal and they work wonderful now!
If you live in or near Greensboro, I highly recommend you contact Jim at Jimco Trailers. They are amazing and do a fantastic job!
Question for you:
Do you own an Exiss Horse Trailer? Have you had problems with your windows?

Have you ever bought something knowing you would have to repair it before using it?