Good Afternoon and Happy Monday! I can't believe how fast the weekends go by.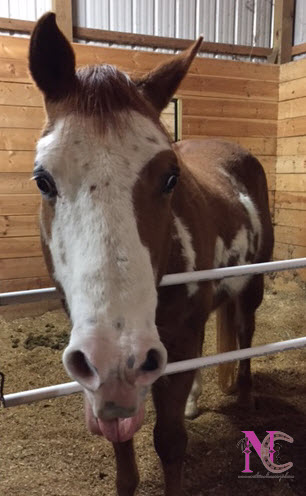 How was your weekend? Did you do any riding? My weekend was filled with horsey activities! Since the weather was super nice – Finally! – I got to ride Saturday and Sunday! YAY! But Saturday sure didn't start off like I wanted it too.
Saturday morning I woke up, made a pot of coffee and proceeded to get my computer out and work on a friend's website for his tack store. So after an hour or so of working on the computer, I pick up my cup of coffee to take a sip of it while I look out the window at the field. As my eyes register what I initially see I start to panic inside. Te is laying down in the field. Immediately I think he's colicing. But then he stands up. My heart rates slows down a little and I start to think to myself, dang I worry too much. So I watch another minute or so and he stays standing up and nibbles on some grass.
So I go back to work on the website for a few more minutes and then for some reason look out the window again and there he is LAYING DOWN AGAIN. Panic sets back in and I save everything I'm working on, quickly change clothes and head out to the barn to get him in and look him over.
Oh yes, let me back up for a min. When I went out to the barn (before I started working on the computer) and let the horses out, Te's stall guard was completely ripped and hanging by one hook in his stall. I didn't think much of it because he was standing up and there were no scratches or cuts on him. So I thought he must have pushed too hard and broke it. So I took it down and turned him out.
Ok so now that you know that part, let's move on. So I head out to the field and by this time Te had got up and walked up to the barn. He was actually at the water trough drinking. So again I think to myself – Humm, can't be colic. He wouldn't be drinking. Or could it be? – I was truly baffled. But I still put his halter on and walked him into the barn and put him on the cross ties. I start looking him over and noticed his sheath is swollen. Ok, so maybe it's dirty and needs to be cleaned since I'm not seeing any signs of trama around that area. I listen to his gut and I hear bubbling and noises. So again I'm just not certain its colic. But since I am a worry wart especially after dealing with a horse that had cancer and things constantly "not being right".
I decided it was in Te's best interest to call the vet and start walking him. So I grab my phone and start leading him down the new trail we made. The trail was going to be the perfect place to walk him because it was something new and he'd be a little nervous which means my chances of getting him to poop would increase. Welp, it worked. We only made it 50 feet down the trail and he pooped. Great sign. But still wanted the vet to see him. So after talking to her and getting the ok to bring him over, we headed back to the house and hooked up the trailer, loaded him up and headed to her office.
Got there, got him unloaded. He starts eating grass while we wait on her to get a place inside the barn ready for him. Another good sign. At this point, he's pooped 3 times (he pooped in the trailer too) and he's alert and not wanting to lay down. Surely it's not colic. Once she is ready, I walk him in and she starts listening to his heart.
Here's the good news in all the bad – SHE DIDN'T HEAR ANYTHING WRONG WITH HIS HEART!! I told her that a vet I used before said he had heart problems and not to ride. She said she heard nothing wrong and to ride. I was so happy to hear that. I've missed riding this boy. She thinks the other vet probably just didn't know what he was hearing because he specialized in cows not horses. Lesson Learned – don't use a cow vet for your horse needs and get a second opinion.
Anyway, she listened to his heart & his gut, looked at his swollen sheath and felt his stomach. He had lots of gut sounds but his belly had a ridge from the edema underneath. She told me the edema in his sheath and under his belly were known to be a signs of impaction. So we gave him molasses water and he drank a small amount of it. She also gave him a treat to see if he would eat it, of course he did. She said since he was eating and pooping it was possible the impaction had or is passing. The options were to tube him to make sure he gets enough water and to help get the impaction to move or to let him continue to drink on his own and not feed him too much.
Since he had already pooped 3 times and was wanting to drink on his own. Not to mention, was very alert. I decided against tubing him and instead would monitor him at home and make sure he got lots of water. So loaded him back into the trailer, as luck would have it, he pooped again. Te's prone to colic but most of the time when he does it's bad. Luckily this time it wasn't and everything passed on its own.
I swear God must have been listening to my prayers and answered them. The fact that everything turned out fine on its own, was a major blessing. Te continued to act fine the rest of the day and by Sunday all the swelling was gone.
Moral of the story – swollen sheaths aren't just a sign of your geldings manhood needing to be cleaned. It can also be a sign of impaction colic. My advice, call a vet if your gelding ever has a swollen sheath and let them figure out what is causing it.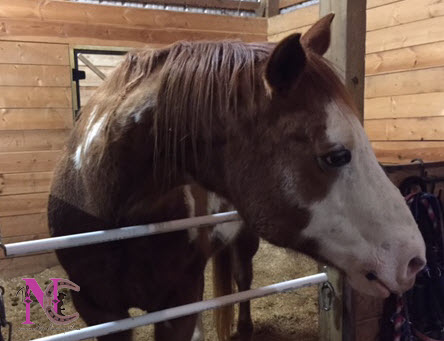 Have you ever had this happen to your gelding and it be a sign of colic?