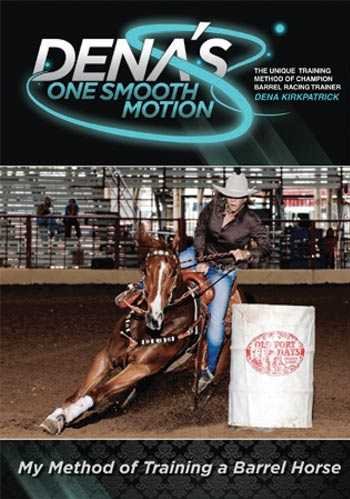 So the other night I attended a webcast with Dena Kirkpatrick on Barrel Racing. For those of you that don't know Mrs. Dena, she is a professional barrel horse trainer and has won many championship titles. She holds the record for the only riderhorse to win all the goarounds of the BFA World Championship Futurity. Dena believes in a simple and common sense approach to training barrel horses. She likes to teach her horses to be the best with out forcing it out of them and this is my way of training too.
I must say I was impressed with the webcast and really happy I attended. She hit on some great training points, some of which I already practice and some of which I don't. Watching her riding her horses made me want to just get on my horse and go train. She rode two younger horses in the clinic. One was a mare that had cutting/barrel bloodlines and the other was a gelding that had straight barrel bloodlines. I must admit I was more of a fan of the mare because I like level headed horses. I guess one to many falls off of my horses has taught me brains over fun. When I was younger I'd ride all the crazy horses. I loved if they reared or bucked but now I like them cool, calm, and collected. 🙂
The webcast was 2 hours long and focused on Warm up tips and Barrel Pattern Tips. For now, I'm going share some of the warm up tips she gave us and save the pattern tips for later.
Warm up and start a horse in a snaffle bit – This type of bit is easier on the horses mouth and allows for more contact.
Flexing at the poll – She likes her horses to flex at the poll at what ever level their head naturally stays at. So if it's a horse that mostly carries his head low then she has them collected in a low frame. If the horse tends to keep his head higher then the collection is a higher frame set.
A very broke horse is best b/c you can have their full attention and put their feet where they need to be – I really loved this statement. So many times you see people at shows who are riding horses they can't control and have no business riding. Barrel horses are typically hot headed horses and need confident riders that can keep them under control. Because these types of horses are so high strung it's very important to put proper training on them so you can get their full attention while riding.
She likes a horse to do the work himself and use one rein – While I myself am a two handed rider I do see her point here. She said this because she likes to keep one hand on the horn at all times to keep her balance. I like a horse that knows his job and enjoys it because it does make riding more fun.
Perfect circles very important. Walk the circle first, then progress up into trotting the circles. She likes the horse to be flexed in but not you continuing to hold him she wants the horse to hold himself that way – Ahh..the joys of hearing this and knowing it's something I already practice with mine. I like my horses to bend in a half moon shape when I'm doing circles. I don't want just their neck bending in, I want they body wrapped around my leg. (I don't mean shaped like a C, just to clarify.)

The release of pressure is when they learn – This is so true for horses and you will hear this from just about every well known trainer.
Everything you do to one side you must do to the other – Again, so true! Remember though, when you change sides, you are starting over. Just because they horse just did something perfect to the right doesn't mean they will do it perfect to the left. It takes repetition for them to know what you are asking and continue to do it.
Don't stay in their mouth or you will make their mouth dull – I think this is common sense for most advanced riders so I won't add to it.
Every que you give the horse should be light. It shouldn't take a lot of asking to get a response – This is true for a well trained horse. An advanced horse should know what's being asked with out a lot of pressure having to be applied. Of course, this isn't true for a green horse but can be with lots of miles and training. 🙂
Give your horse a mind and you won't have to use the body as much – Here I believe she was trying to say that you want your horse constantly thinking instead of reacting.
They should stop using their butt – The hind end should come up under him instead of him using his front end to stop himself.
Use roll backs to change directions – The reining training makes it appearance. I think rollbacks are great and especially good for getting a horse to use hind end for changing directions. Just in case you don't know, a rollback is when the horse does a 180 degree turn after a quick stop (for reining that would involve a sliding stop) and then immediately goes forward in a lope. Maybe this year my horses will perfect this. 🙂 That's one of my many goals for them this year anyway.
So there are some basic warm up tips Mrs. Dena gave us. I can't wait to get on my horse and ride now. My favorite part of riding is training a horse and getting it to perform well. For me riding is more than just getting on and going, it's about connecting with my horse and training him to be the best he can be.
What are some things you practice when warming up your horse?