If you follow me on Facebook or Instagram then you've likely seen the post teasing my DIY Portable Horse Panels project. I had a lot of people ask me to share the details on how I made my panels, so that's exactly what I'm doing today. 🙂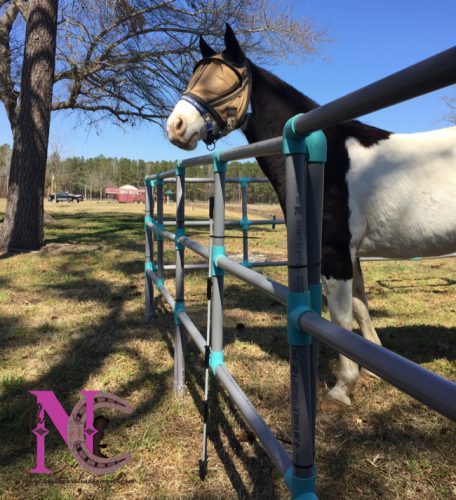 First though, let me explain why I made my own horse panels versus buying some already made. There are actually a couple of reasons:
I thought I could make them cheaper then the ones I've seen marketed by other companies.
I wanted a special color no one had.
I did a lot of research and was worried the set I could buy wasn't constructed well enough that my horse wouldn't get her head caught in it.
I'm glad I did end up making my own because a friend of mine did buy a set online and while we were camping her horse did get her head through the rails and did pop that panel loose. I took video of that too and you can see it below.
Materials Needed for DIY Horse Panels
3 cans of Valspar Spray Paint (I used Nautical but you choose the color and finish you like)
25 Long Zip Ties
6 – 8 Step in Posts (or you could use 3ft t-posts)
Step by Step Instructions for Building the Horse Panels
Before you begin you will need a Miter Saw to cut the conduit down to the correct sizes. I would also recommend you go ahead a day before hand and spray paint all of the Tees, Elbows and Crosses so they can dry. You'll want to spray multiple them at least 2 times.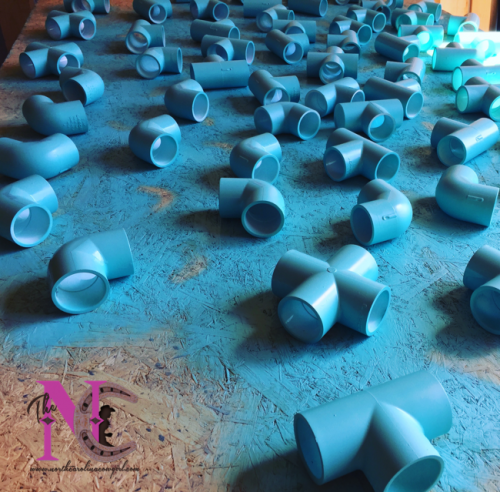 To Make One horse panel you need to: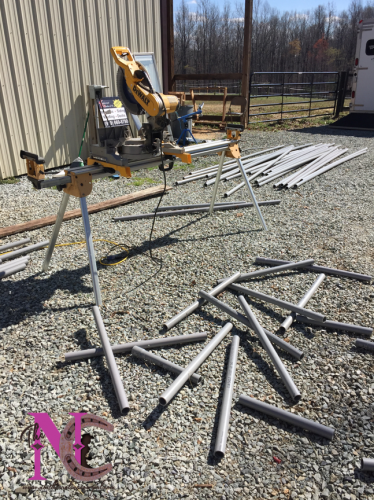 Step 1 – Cut the conduit into 6 pieces that are 30″ each. 6 pieces that are 16″ each. 2 pieces cut 13″. These 2 pieces should be 13″ from the end of the conduit pipe because you will use the wider end as the bottom of the panel. The wider bottom is shown as red in the drawing.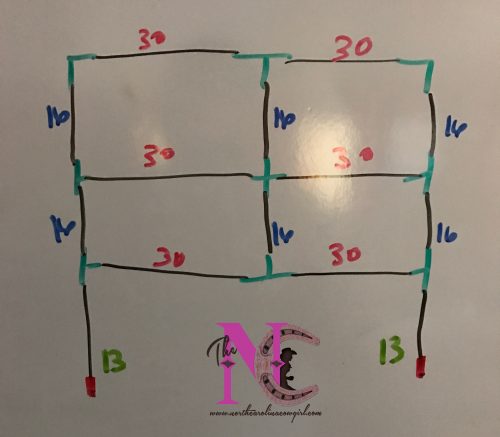 Step 2 – Lay the pieces out on the ground how they will all go together. Use these pictures as your reference point.
Step 3 – Start with the bottom rail and then work your way through each piece until the panel is complete. Before you put all the pieces together, make sure you put glue around the inside each of the connector pieces (i.e. Tees, Elbows, Cross). When putting each piece together make sure you push the conduit and connectors all the way together so the conduit is as far inside each connecting piece as it can go.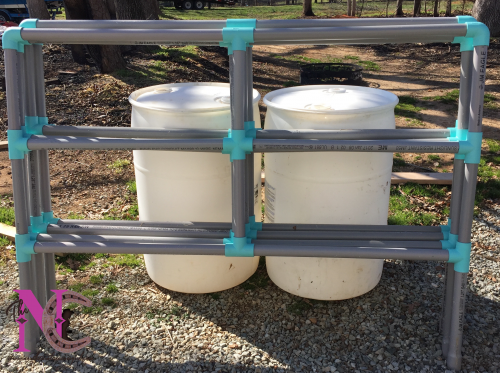 You'll continue to repeat this process for each panel you make. The material list above will make 8 horse panels that are around 5 foot in length each. If your unsure how to do something, please leave a comment below. I'll answer all questions there so that anyone else who might have the same question can see it.
How to Set up the DIY Panels
Now for the fun part! The set up is actually pretty easy.
I used my trailer as one of the walls but you don't have to do that. I did it so the box area for my horse was larger.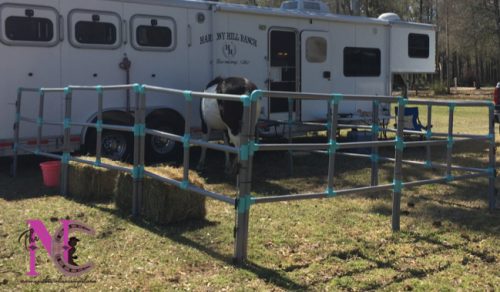 First you will need to drive a step post into the ground where you want your first panel to be set up. Once it's in the ground, position one end of the panel beside it so you can zip tie the end to the post. The post is use to keep the panels sturdy. Next, grab your send panel and position it inline with the first and then zip tie the two ends together. If you are not using your trailer as a side, then at the end of the second panel (i.e. corner of the box) place another step in post and zip tie it to the panel end. Now repeat this process until your have all 4 sides complete and then you're done! If you are setting up all 4 sides, make sure you don't connect one of the corners so you are able to put your horse in and out of the box area.
That's it! Not to complicated or hard! If you make these and use them, I'd love to hear from you and what you think of them in the comments below! 🙂