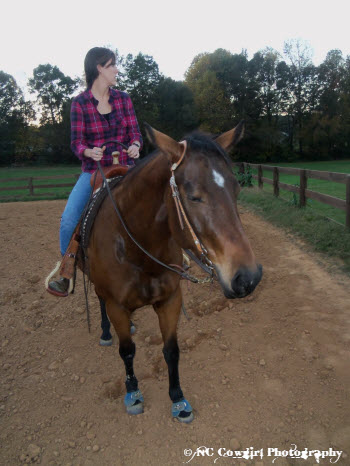 For those of you following me on Instagram, you've probably seen pictures of "Gracie."  Gracie is the newest member to my herd of horses and I couldn't be more excited about her. She is a 5yo Bay QH mare out of Dash for Perks. For awhile now I've been contemplating getting a new horse that is already trained on barrels. I've enjoyed starting Vinni <to an extent> but its such a long process that I'm ready to be running and doing more.
Well a girl I've been acquainted with happened to post on Facebook that she had a mare for sale that had Dash for Perks bloodlines with barrel and reining training. I have wanted a horse trained in both of these disciplines for such a long time that I was interested as soon as I saw the post. Not to mention, this girl is a very well known and respected rider in the barrel community so I knew the horse had to be good.
So I worked it out to go see her and immediately fell in love with her. Truth be told I was probably in love before I saw her just because of everything I had been told and the videos I saw. She was exactly what I had been wanting but unable to find at a price I could afford. Well I rode her around and was amazed at how well trained she was. Normally I'm the one always putting training into the horses but on her it's just the opposite. This mare is going to teach me things I have yet to learn. Besides how wonderfully she rode she also came with a sweet deal. You see she had a baby this year out of Panama Edition but the baby got caught under a fence and died. Well the owners of Panama Edition have agreed to let her be bred again next year if I choose too. So basically I get a free breeding to him again. (*Panama Edition is one of the top barrel racing horses in the world and has had many babies that were winners too.)
I couldn't pass on this horse. It was just to good to be true and exactly what I had been wanting. So papers were signed and Sunday I picked her up and brought her home. It definitely was meant to be because she has settled in with my boys perfectly and has even started to come running up to me when I go visit her in the field. She seems to like me as much as I like her. 😀
Since I haven't been able to make any videos myself I thought I would share this one that was taken by her previous owner. Here's Gracie loping the barrel pattern back in September.
Whens the last time you got a new horse and what made you decide to make the purchase?