Last year, at the end of 2015, I bought a new to me living quarter horse trailer. The hubs had started to go on camping trips with me and was enjoying it, so I decided it was time to upgrade my horse trailer. My old trailer was great when it was just me camping but with him tagging along, I wanted something with true living quarters. He doesn't ride horses, despite me begging repeatedly, so I knew I needed something that he could hang out in while I ride and not get too bored.
So I started looking for a used living quarter horse trailer….
I looked for months and found nothing I liked…
I started to think the only option was to buy a new one…
Then one day, I found the perfect horse trailer with the most amazing living quarters I had ever seen!
I called up the owner, went straight to look at it, loved it and made the arrangements to buy it that day. Never once did I get buyers remorse over making such a large purchase so quickly and still to this day I love spending time in this trailer. If you asked me would I live in it, I'd say yes!
Now that I've owned it for a while I feel like I have a good idea of what makes buying a living quarter trailer worth it and what doesn't.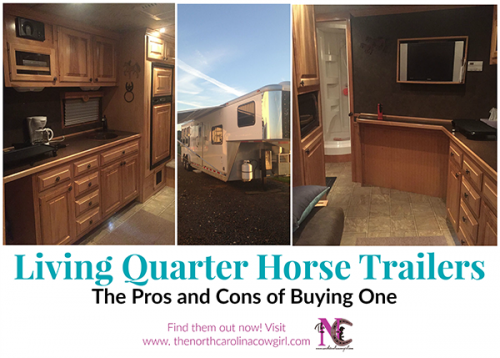 Pros for Buying a Living Quarter Horse Trailer
You have the Cash to pay for it outright and don't have to take out a loan!!! This one is big y'all. If you can't do this, don't buy one. I've always been a big Dave Ramsey fan and have worked hard to be debt free. When you buy big ticket items like this with Cash, you appreciate them better and take better care of them. These trailers are expensive and need the best care so they will last years and years.
More "living space" then a regular trailer –  My trailer has 15′ of living space which is plenty of room for both of us. We've never felt cramped in it. I also have tons of cabinet space, so much in fact that I still have empty cabinets because I don't have any need to put anything in them.
Not having to use a bath house – Gah, I love not having to use a bathhouse anymore. I've stayed at some horse camps where the bathroom was just gross. You would take a shower and still feel as dirty after as you did before the shower. Now I can shower in my trailer. Not to mention, having your own toilet in your horse trailer. OMG is it the best!
Cook inside the trailer – I typically do not cook in my trailer and if you'll notice in the pictures, my horse trailer doesn't have a cook top. I'm not a fan of cooking inside or having one more appliance to worry about something going wrong with. I'm also worried about it being left on and causing a fire, among other fears, so I purposfully bought a trailer without that feature. However, I do understand why people want this, especially when it rains, which is why I'm including it as a Pro.
Sleeps more people – Most living quarter horse trailers have a couch or table that fold into a bed. This gives you room for additional people to camp with you and have somewhere to sleep. I love that I can now invite friends to go camp with me and we can take one trailer. It saves us both money on camping fees, food, and gas because we can split everything!
Self Sufficient – this will apply to some trailers but not all living quarter trailers. When I say self sufficient, I mean you can camp without having power and water – i.e.Primitive Camp. Some living quarter trailers have generators which can run most of the appliances in the trailer. I believe all LQ trailers (although don't quote me on this) have a holding tank for water. Which means you can fill it up and still use the sinks, shower, and toilet.
Cons for Buying a Living Quarter Horse Trailer
Big Expense – not only is buying the trailer an expense but depending upon what all your trailer has, there could be additional expenses, such as – generator maintenance, fixing leaking water tanks, propane tanks to fill, winterizing the trailer, appliances to maintain, etc. Make sure you know all of the costs associated with having a true living quarter trailer before you buy one. Those are costs you won't have every time you use it, but they are costs that will come up and you don't want to be surprised by them.
LQ Horse Trailers are Heavy – in some cases, owning an LQ trailer could mean you need to have a dually to pull it and the right weighted tags. Make sure when you are looking at these bigger trailers, you find out the empty weight and loaded weight. I actually took mine to be weighed so I'd know how heavy it is. With a horse in it and fully loaded for camping, my trailer weighs 16,000 lbs.
Have to be Winterized – this isn't anything big and shouldn't stop you from buying an LQ trailer. If you do it yourself, winterizing your trailer will cost you less than $20.
Maintenance is costly when things break – For example, leaky tanks can be costly to fix/replace and this is something that has to be done if they leak because campgrounds don't allow anything to leak out. Some other costly repairs that I've heard about but not dealt with are – water draining issues, water pipes breaking, roofs leaking and needing repair along with making sure the inside doesn't mold, etc.
Dumping your tanks – this one is the worst but it's something you have to do. Ugh, dumping the black tank smells so bad and it's just sooooo gross! Not to mention, the stench at the dump stations will make you want to hurl. ::insert sick emoji:::
So there you have it, those are my reasons for and not for buying a living quarter horse trailer. Now that you've read those, let me show you mine! 🙂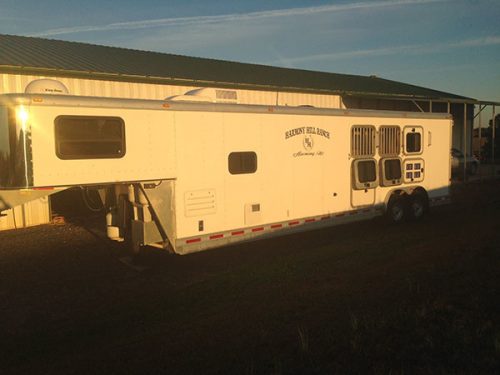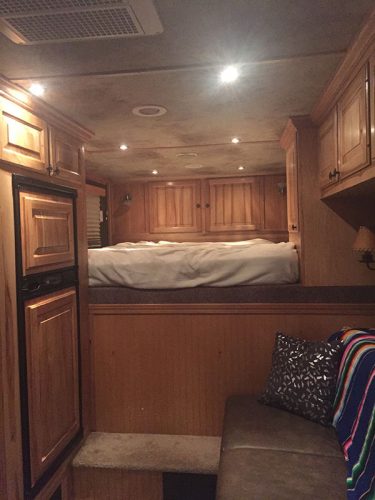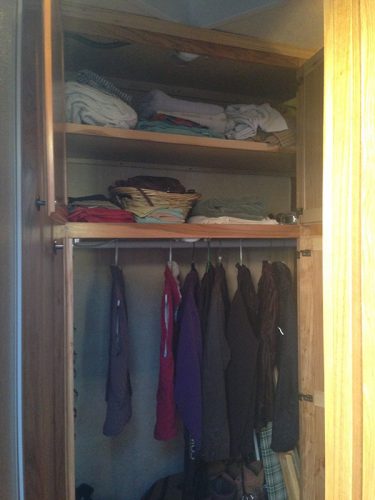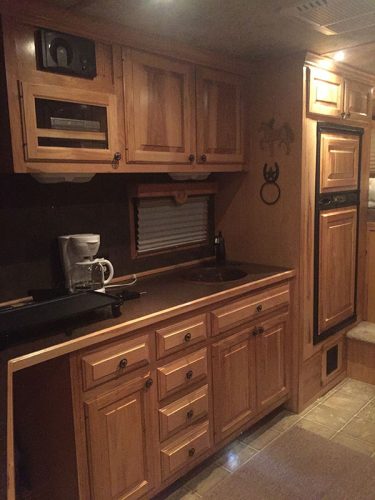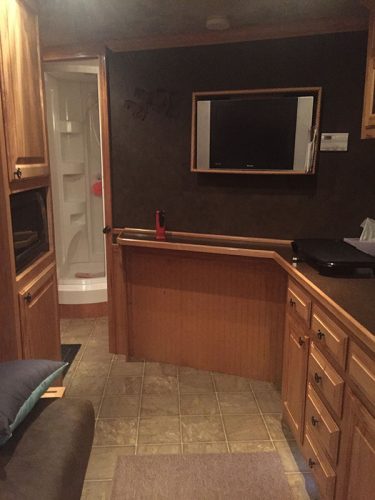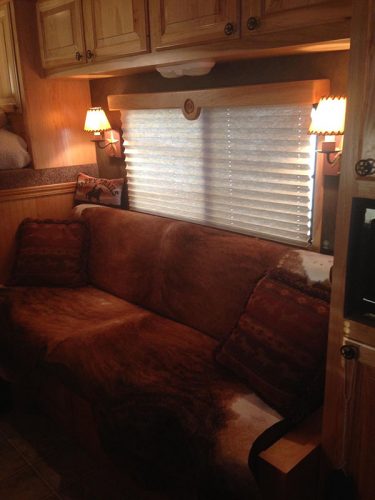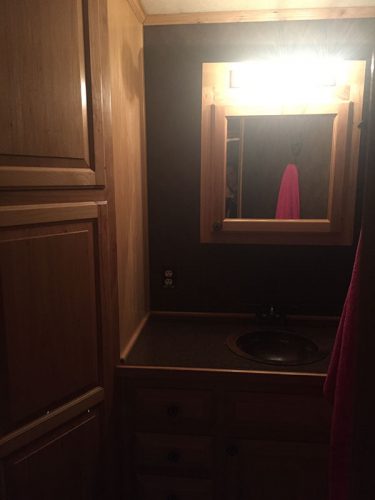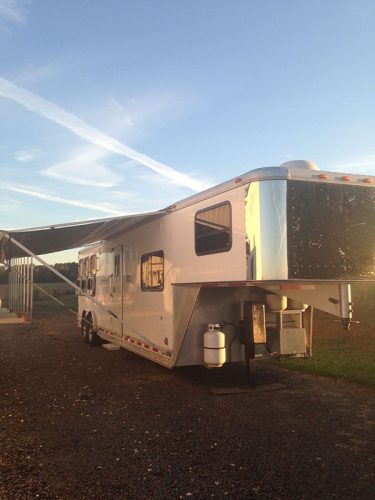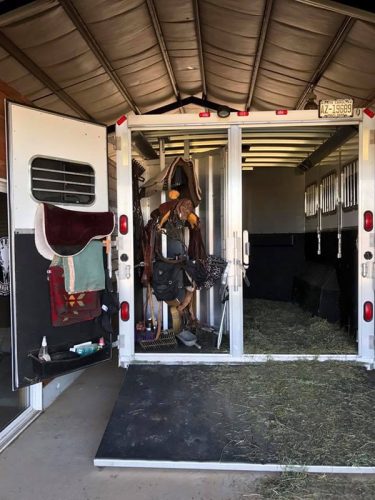 Some of the features I love about my horse trailer that I didn't realize I would are:
having managers to store tack I don't use often
the ramp on the back. OMG this part is the best part to me. It is soon nice that I no longer have to heave my saddle up onto the saddle racks. Now the saddle racks are easy to get to. I love having the blanket bars on the door too
the head and butt windows that fold down
having a hydraulic jack is the best. No more hand cranking the trailer. However, I have already had an issue with this and was unable to get my trailer onto my truck because the jack messed up. Had I have been camping, I would have been screwed.
being self sufficient and not needing water and electric hook ups. I love that I can go to shows and still fully use my trailer…especially all day shows.
So Tell Me…
What are some of your pros/cons for buying a living quarter horse trailer?
What features do you love about your trailer now?