Good Morning! 🙂
I don't know about you but I sure am loving the time change! It's great to have that extra hour of daylight in the evening. It gives me enough time to get everything done around the farm without feeling rushed. The weather has been sunny and in the 70s here which has been really great for riding. Of course, my horses get hot fast because of it being warmer and them still having a winter coat but it will be gone in no time.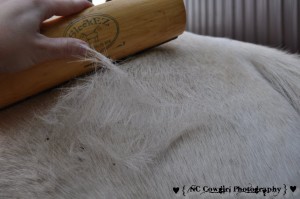 Has your horse(s) started shedding his/her winter coat yet? Mine have started too and it's funny to look out in the field and see all the white spots from Jet or Vinni rolling and their hair being left behind. I'll be glad when their winter coats are completely shed out and it's warm enough to start bathing! My horses need a bath in a bad way. Back on shedding though, I like to do as much as I can to help my horses get rid of their coats faster so I tend to groom a lot more. In past years I would give supplements to help them shed faster but last year I was introduced to this new shedding tool by a friend.
The shedding tool is called SleekEZ. Ever hear of it? It is the miracle tool when it comes to getting rid of loose hair. It's extremely light weight and easy to use. Plus, the best part is the price tag won't hurt your pocket book! 🙂
Here's a short video I found on it.
The SleekEZ comes in two different sizes and can be used on horses, donkeys, dogs, cats, etc. Not only is it great to use on your animals but it's also great to use on your Saddle pad to remove hair.
What is your favorite shedding tool? Have you tried SleekEZ?
**Note: This was not a sponsored post by SleekEZ nor did they ask me to do a review on their product. I did this post to share information about a great product I've tried and liked. If a friend hadn't told me about it, I wouldn't have known it existed. I'm simply paying it forward by telling you guys about it because I like sharing information about great new products and I hope that you guys will share with me any great products you like. 🙂