Earlier this year, Rumor, my black and white paint horse had a red spot come up on her eyelid. I was concerned when I first noticed it but didn't want to rush to have the vet out until I knew for certain it was something worthy of an expensive equine vet visit. You know how it is, the horse vet comes and you're lucky if the visit cost less than $200.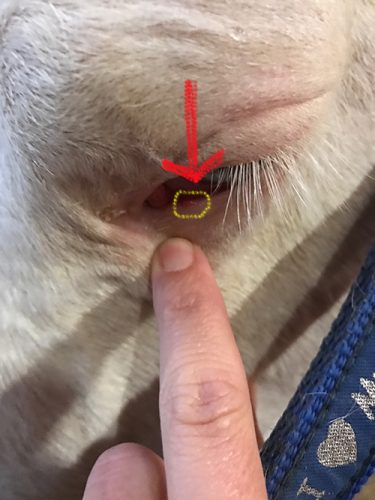 So I kept a close eye on it for a few weeks to see if it would go away or if it got worse. At first it was a small red spot. It closely resembled a scrap or cut but then the red spot started to grow. The spot stayed red in color but started to look more like a skin tag on her eye lid. Since I knew Paint horses with white eyelids have a great chance of getting cancer on the eye, I decided to go ahead and call the vet.
Good thing I did too! As soon as my vet saw it he knew it was likely cancer, Squamous Cell Carcinoma tumor to be exact. Since I didn't want to take any chances I told him let's go ahead and treat it. He proceeded to cut off the tumor and saved it to send off for testing. Luckily, the spot was still little so the procedure could be done at my barn and only required medicine to keep Rumor calm and local anesthetic to numb the area so she wouldn't move when he cut it off.
Rumor did great for all of this too! She held still which I was worried would be a huge issue because she does not like for her head to be touched. Trying to curry or brush her face is no easy task but she held still for him without having to be drugged too much.
Here's some pictures from the procedure. Sorry the picture quality isn't the best. I took them with my phone.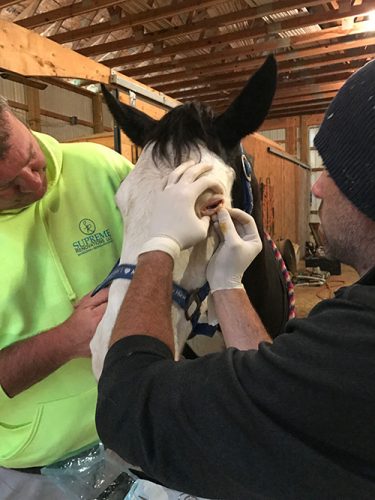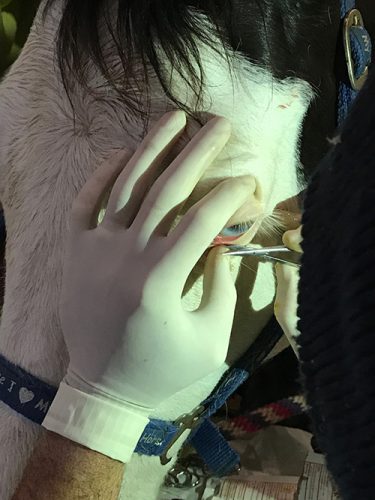 Once the squamous cell carcinoma tumor was removed, he put some medicine on the spot to keep it from getting infected. Afterwards, I was to keep it clean and start treating her with chemo when it came in. The chemo was a liquid substance which you had to be extremely careful with. Gloves were required whenever I was messing with it or putting it on Rumor's eye. Thankfully, she did great when I would apply the chemo too which was done by squirting the chemo directly onto the spot of the eyelid.
We treated the squamous cell carcinoma tumor with chemo for 1 week on and 1 week off for 3 rotations. I could tell that the chemo did irritate her eye some and would cause it to water constantly. Even after treatment stopped, her eye continued to water for a month or so but has since stopped doing that. :::Knock on wood::: The tumor has not returned since being treated. All in all, the vet visit and chemo cost me around $550. Not as bad as I thought but still pretty costly. Could have been more expensive though, if I had waited longer. So if you see any red spots pop up on your horses eye, get it looked at right away!
Nowadays, I am more cautious with Rumor and how much sunlight she gets. I try to keep her in the barn longer during the day right now and when she is out during daylight, I put on a fly mask to help block the UV rays. Even if I'm riding, I try to keep something on her face (i.e some type of fly mask) to keep the sunlight off her eyelids.
If you have a paint horse with white eyelids, I would highly recommend you do the same so you can decrease the chances your horse doesn't get a squamous cell carcinoma tumor around the eye.
Good Resources about Squamous Cell Carcinoma:
So Tell Me..
Have you ever had a horse get this type of cancer? How did you treat it and did it ever come back?