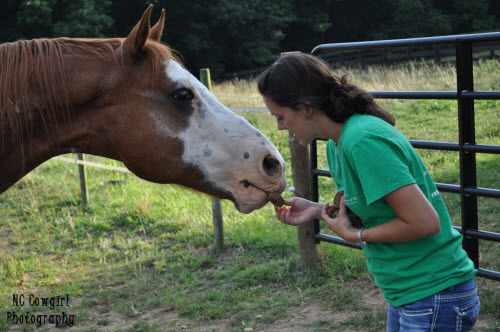 About 6-8 weeks ago, my sweet boy Te was diagnosed as Pre-Laminitic. For a week or so leading up to this diagnosis, I noticed he was walking like his feet were sore. At first I thought it was just because the ground was a little rocky and his feet were more soft then normal from all the rain we had. But the soreness didn't seem to get better though, so while the Vet was out looking at Gracie, I had them look at Te too. She thought he had beginning signs of Laminitis and we started treatment right away.

The Treatment Plan
Te's treatment included cutting back his diet and changing his feed because he was about 300 lbs overweight, removing him from the grass pasture immediately and putting him in a dry lot and getting him a pair of Soft Ride boots to help with the soreness.
Diet Changes
I needed something with lower sugar and starch percentages and after lots of research I chose Nutrena's Empower Balanced Feed. The reviews were excellent for it and the ingredients were exactly what I was looking for. I also didn't have to feed a large amount of it each day, so one bag would last a long time because it is super expensive at $26/bag.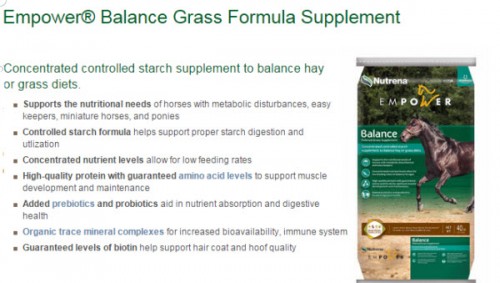 Keeping Him from Eating Too Much Grass
Getting him off the pasture was a little bit harder of a task because I don't have a "dry lot" at my farm. All my pastures have grass and tons of it. So I ended up roping off a small section of a current pasture and putting all the horses on it for a few days to help get the grass ate down. The part of the pasture that I chose to use is part of my winter field, so luckily the grass hadn't grown too much and it didn't take long to get it to a point Te would be alright on it. So for 4 weeks I put Te and a buddy in this small lot. He was still able to eat some grass but not near as much. I also only left him on the pasture at night for about 8 hours. During the day, he would be stalled.
Adding Support and Comfort
To help get him more comfortable and to give his feet some support I order Soft Ride Boots. If you're not familiar with these, they basically are a boot that goes on your horse's hooves and they have a gel insert that provides support and cushion.

I would leave the boots off during the day and put them on at night while he was outside. My vet swore the boots would hold up being turned out in them and that they would stay on. I will say, they have held up great for all wear and tear they've been through already. However, they don't stay on well at all. At some point during the night, Te always manages to slip out of them. It doesn't matter what I do to try and get them to stay on, they just won't. That is my only complaint with the boots. I don't know if he's over stepping and pulling them off or what, but he is somehow getting out of them and when I put them on they are snug, so I just don't get it. Part of me wonders if the vet ordered a wrong size for him. When he's first trimmed they fit perfect but about 3 weeks into wearing them after a trim his hoof seems to long which leads me to believe we should have got one size up. But they are very expensive so I just deal with picking them up out of the pasture instead of ordering more. They have worked for him so far, so that's all that matters.
The Result
This treatment plan worked well for Te. After a month of doing all this, he was much better and not sore anymore. I think we caught the disease early enough we were able to keep it from getting worse and even cure it. Te will always be prone to getting Laminitis, which means I'll have to continue to keep him on a good diet and not let him get over weight. I'll also have to be careful about how much grass I let him eat. I plan to keep him on the same feed, wearing the boots at night while turned out and rotating him on and off the grassy pasture to the dry lot to keep him from getting to much grass. This plan has been working the last couple of weeks so I expect it will continue to be a good plan for him.
So Tell Me..
Have you had a horse with Pre-Laminitis or Full blow Laminitis? What type of treatment did you do for your horse?