Around this time last year, I bought my 1st "expensive" treeless saddle. It's a Horse Tack World Circle Y barrel saddle. I say it's my first expensive treeless saddle because I had bought a cheap Hilason treeless first. Needless to say, that ended up being a worthless purchase for many reasons.
After looking at different treeless brands, I decided to stick with Circle Y. Every saddle I've owned has been a Circle Y and they have lasted 10+ yrs. I guess you could say I'm a little biased towards that brand. Not to mention, when you're spending thousands of dollars on a saddle, you want to get a good one.
Originally, I was looking at the Tammy Fischer saddles but wasn't completely sold on them. I wanted something that would stand out and have some bling to it. I've always loved a saddle with bling and the those didn't have any.
That led me to Horse Tack World. They had a good selection of saddles to choose from along with different swell types. I bought a 15.5″ Round Swell treeless saddle. My hopes are it is 1 of a kind, but I could be wrong. I definitely know there aren't many of them out there floating around that look like mine. 🙂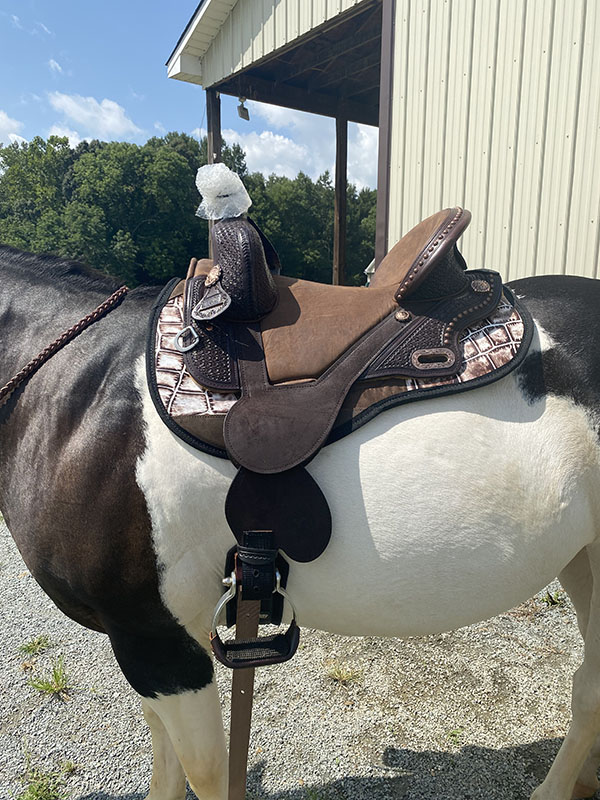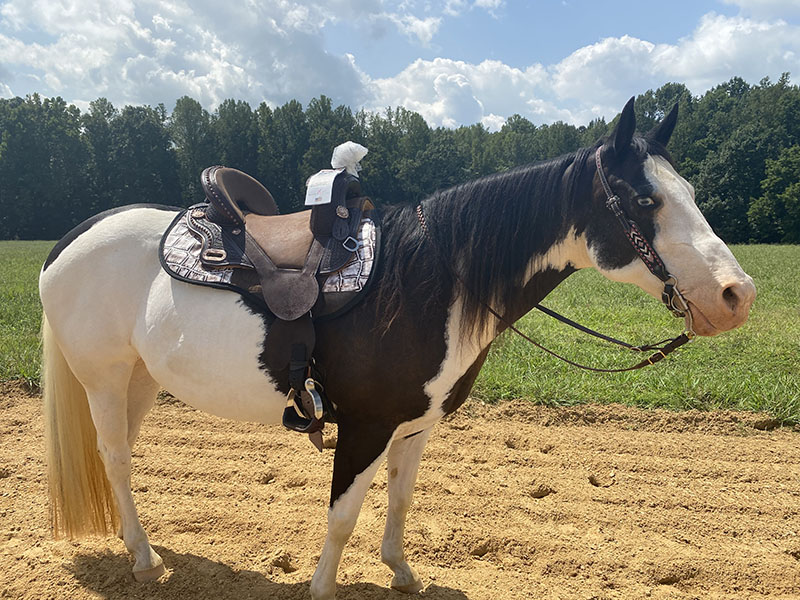 WHY I BOUGHT A TREELESS SADDLE
The reason I bought a treeless instead of another treed saddle is simple. I felt it is what my horses needed and would fit them both best.
For quite some time, I knew something was off about my saddle fitting Gracie. It would twist to one side and wasn't comfortable at all. When we would lope, I felt like my body was twisted. Through a lot of research, I realized Gracie's back is asymmetrical. That caused the saddle to slide to one side and not feel right.
Rumor, on the other hand, is symmetrical but her barrel is very round and she has no withers. My saddle fit her better than Gracie but still not the best (based on sweat patterns).
With both horses being different shapes and only wanting to buy 1 saddle, I decided to go with a treeless. I LOVE riding bareback and felt like a treeless would feel like riding bareback but with stirrups. Win, win!
DOWNSIDE OF A TREELESS SADDLE
Considering fit is the biggest upside to buying a treeless, let's talk about the downsides of this type of saddle.
Saddle Slipping
The biggest complaint I read online was that the saddles will roll side to side. After talking to Felicia about this concern and doing my own testing, it comes down to the pad you choose.
I tested out 2 different types of pads (i.e 5 star trail pad with dropped rigging sides and Reinsman treeless). The Reinsman treeless pad is the best pad for my horses. The "tacky" bottom holds the saddle in place better. It also sits you closer to the horses back, giving you a better feel of your horse. The 5 star felt bulky under the saddle and the saddle would slide side to side. Now, if you have a thin horse, 5 star might work well for you. It's all about testing to find out what works for you and your horse.
Besides possibly having to buy a new saddle, you likely will have to buy a new cinch. Rigging for a treeless sits lower than your typical treed saddle; therefore, you will likely need a smaller cinch. Even though my old saddle had dropped rigging, I still had to get a smaller cinch.
The Feel
Another downside could be the feel of the saddle. I feel like the treeless sits my bum deeper in the saddle which makes my seat feel more secure. I'm able to really sit down around the turns which is something I struggled with in my other saddle.
Mounting
I read it is harder to mount from the ground in a treeless saddle. I have not found that to be a problem. My saddle doesn't move when I get on. I think this comes down to having the proper set up (i.e. pad, cinch).
So Tell Me
Do you own a treeless saddle? What do you like and dislike about it?