Whew, cleaning up around my barn was tough work this weekend! I let it get worse than I normally would because I had to put out hay by hand and didn't feel like taking it out to the pasture. Yes I know that sounds silly, why not just move it with the tractor?!?! Well….I currently lease the farm I have and the landlord has been kind enough to let me use her tractor to move hay and do whatever. However, this past week she went out of town and locked the key to the tractor in her house. So that left me with the inconvenience of having to pull apart a round bale of hay, handful by handful. 🙁
Since that takes a lot of work itself, I wasn't about to walk a million few feet out to the pasture so I decided to just dump the wheel barrow loads in front of the stalls. Boy oh boy did that cause a mess! As you can see from the pic, hay was everywhere, poop was every where and it smelled horrible! Now I get to spend all the energy I saved by not putting hay where I should have, to clean up the barn area.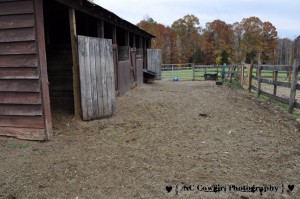 Gotta love when you get lazy and it bites you in the butt. Now I get to rake up all the nastiness while the horses enjoyed munching on hay and laughing watching me. Jet especially loves to watch me work. I can see the twinkle in his eye as I'm slaving away over his home. Even though I know he is secretly saying, "bout time mom." I know he (and his brothers) sure do appreciate a clean place to sleep.  At least thats what I think all the kisses and nuzzles meant when I finished cleaning the barn.  🙂 You're welcome sweet boy!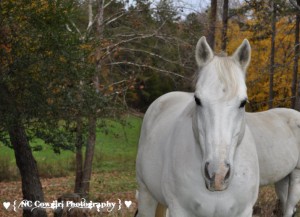 What's the worst you've ever let your barn get before you decided it was time to clean it?
(#ThankfulChallenge – Today I'm thankful for my farm. I love having my horses in my backyard and waking up every morning and peaking out the window to see them ready to go out. I waited many years to have this and it was well worth the wait!)