For most of us, or maybe just some of us depending on your stable situation, colder weather means less grass and time to put out large round bales. Just recently I put out my first round bale of the winter season and have watched my horses eat away at it until all that is left is a big mess of wasted hay on the ground. Each year, I say I'm going to get a hay feeder and as usual winter gets here and I never did. The thing that always stopped me was the need for it going away as the grass started to grow and round bales weren't needed anymore and then of course the cost of the manufactured hay feeders. Holy Moly are they expensive!
The hay feeder I like the best is the one advertised on Craig Cameron's show called the HaySaver. The design is really great and features a roof to keep the hay covered, it sits up off the ground and has a bottom so the hay can't fall through to the ground, the sides panels are wide so a horse's head can't get stuck in it and there are no sharp edges so no worries of the horses getting scratches or injuries.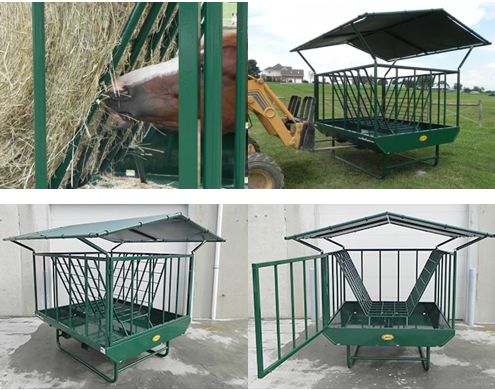 Pretty cool huh?! This nice round bale hay feeder will set you back $2995 plus shipping. Yikes! I definitely see how in the long run it saves you money because of no hay waste but still that's a lot of money to spend on a hay feeder. Since I'm a cheapo, right away my brain went to work thinking of how I could DIY this and keep costs down. I have yet to come up with a solid design but my fireman has already said he would price up material if I can draw something similar to what I have in mind and if it is cheaper then he can make it.
So to get the idea started I took to Pinterest and searched for hay feeder ideas. There were so many great ones that I just had to share them all with you.
I'm going to take these pictures that I've found and try to come up with a design that I like best and something easy that we can build ourselves. If the cost does come out to be cheaper, then I might actually have a hay feeder this year! So exciting! Fingers crossed it will be like half the cost of the HaySaver. We'll see though and once I do figure out if a DIY feeder similar to this can be built cheaper, I'll update this post and let you know. 😉
So Tell Me..
Which of the round bale feeders shown above did you like the best?
Anyone ever made your own feeder? If so I'd love to see pictures of your DIY feeder!