I live in a small town where many of the local businesses are started and run by people we personally know. People we consider friends, neighbors, and family. These people start these businesses with the hopes and dreams of them becoming successful and providing a good living for their families. The unfortunate reality is that many of these local businesses will end up closing their doors and go under despite the owners hard work. Of course there are many reasons that these businesses fail but I'm hoping that by featuring some of these local businesses in my area, I can help to ensure that they don't fail due to people not knowing about them.
Since this blog is all about my life and passion with horses, of course it only makes sense that I feature some great local equine businesses. I've already introduced two local horse businesses – Sport of Horses Park in Snow Camp, NC and Rambling Cowgirl Photography in Silk Hope, NC. Check out their stores if you haven't read them already.
Today I want to introduce you to Iron Will Vets, Dr. Miller and Dr. Parks. I recently was in the market for a new Vet because the vet I had been working with merged with a larger practice and her prices shot up and I was no longer willing to pay them. I loved my old vet but since I have 4 horses, I am budget conscience and had to find a vet that was more reasonably priced. A good friend of mine told me about Iron Will Vets, so I gave them a call and have seen them twice now and couldn't be more happy. Both Dr. Miller and Dr. Parks are wonderful to work with, very knowledgeable about all things horses (and small animals!) and they genuinely care about their patients (and owners) well being. They aren't out to rob your piggy bank and make you wish you never called them. They also don't nickle and dime you to death for every question you ask them or any extra time they are at your farm.

Here's how my story with them goes.
About 6 weeks or so ago I came home to find a big blood spot on the fence which I soon discovered came from Gracie who looked to have had a nose bleed. It just so happened all of this happened late one evening after most vets offices were closed. Since I was on the market for a new vet I called a couple different practices, left a message and waited for someone to return my call so I could have Gracie seen. The only vet to call me back immediately was Dr. Miller. I explained to her what was going on with Gracie and after discussing it back and forth we decided to wait and see if it was a fluke or if she would have another nose bleed.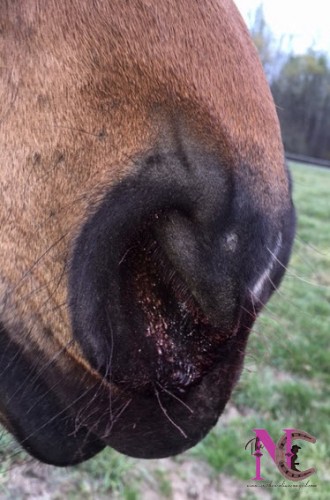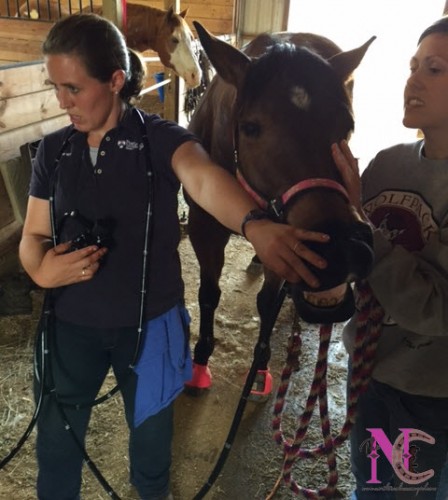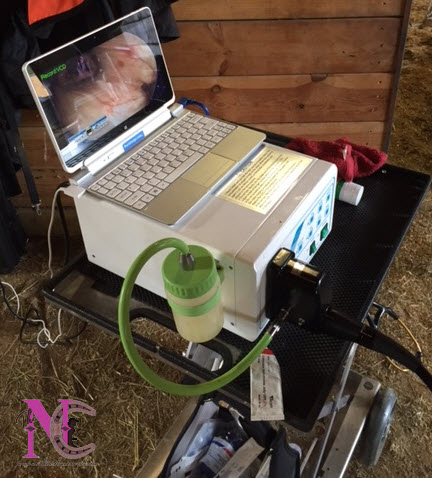 As luck would have it, she had anther nose bleed so Dr. Miller ended up clearing her schedule and coming out to see her. We decided it would be best to scope her and to see if we could find a reason for the bleeding. Long story short, we didn't find anything conclusive during the scoping and believed it to be caused by a ethmoid hematoma. However, after she was scoped she didn't bleed again, so now we believe it might have just been from some type of trauma. Whether she was kicked in the face or ran into something, we'll never know. While she was out though, she pointed out that she thought Gracie probably had some arthritis in her leg due to the scar tissue from her injury. Since I wasn't exactly sure what the injury was or how bad it was, I asked her to do x-rays. Low and behold, we found that Gracie actually has bone fragments in her fetlock. Womp Womp.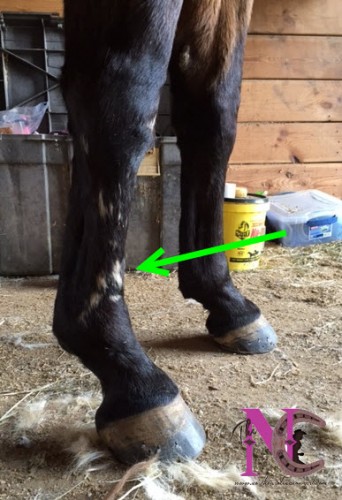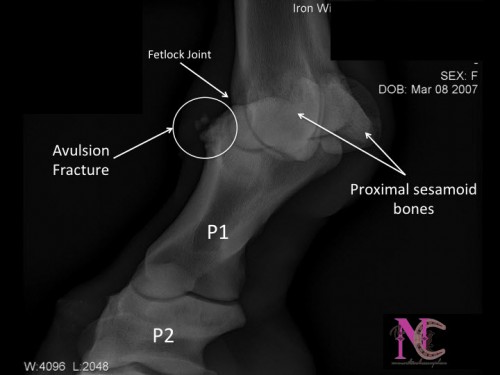 I wasn't expecting to see that at all. Gracie has never been lame since I've owned her and her previous owner said it was nothing major, so I really have never thought anything of it. I just wanted x-rays out of curiosity and because the cost wasn't bad enough to not do it. Luckily, since she isn't lame and it doesn't seem to bother her at all, it shouldn't affect her ability to be a trail horse and maybe even do some light showing. Unfortunately, the dream of her being my next performance horse is more then likely out of question. 🙁 Good thing I love trail riding as much as I love running barrels and luckily I have Rumor.
So anyway, during that visit I asked a ton of questions about Gracie, had Rumor checked out for some breathing concerns I had and then asked a ton of questions about her. Not only did Dr. Miller answers all my questions but she also took her time talking to me, not one time did she try to rush through any of the discussions or exams but she also was extremely thorough looking at both horses. I could tell she really cared about my horses well being and wasn't there to just make money off me. She left a big first impression, so much so I had her back out a few weeks later to float Rumors teeth and look at Te.
This time Dr. Parks came with her, since he is the teeth expert. From what I was told, he LOVES doing dental work and from what I saw, he's good at it too. Rumor is feeling much better now that her teeth aren't cutting her gums anymore. She even gives to the bit so much better. Both vets looked at Te and concluded that he was pre-laminitic. We came up with a good game plan to keep it from turning into full blown laminitis, fingers crossed that doesn't happen. I'll talk more about this in another post soon.
Before I lose your interest, I want to tell you a little more about Iron Will Vets. Both vets attended and graduated from NC State University. (Go Wolfpacks!) They started Iron Will Mobile Vet service in July 2011 which services Burlington,NC and surrounding cities. Right now they are strictly mobile but do have plans in the future to have a clinic where clients can haul in. Not only do they provide care to horses but also treat cattle, small farm animals and even your dogs and cats to an extent. Did I mention how affordable they are? I did. Oh good. If you don't believe me, just call and find out for yourself. I promise you'll be pleasantly surprised. Lastly, the other great thing I love about them is that they use modern technology. Your bills are electronically sent, they respond and are ok with text/email and you can pay your bill online. I just love that they make themselves very available to their clients and it was another reason I have made them my new go to vet.
If you would like more information about Iron Will Vets, visit their website www.ironwillvets.com or give them a call (336) 223-8644. They are also active on Facebook, https://www.facebook.com/IronWillVets so be sure to stop by and tell them the NC Cowgirl sent ya. 😉