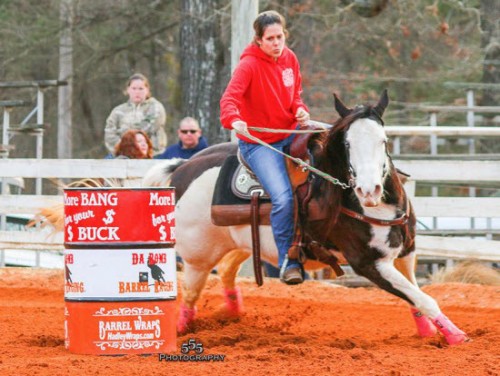 Man oh man am I super pumped and excited for this show season. Rumor and I went to our first show of the year this past Saturday and we did awesome!
Before I get to the recap of the show, I first have to mention what my goals are for this year. I thought I had posted them on here so I could look back on them but I didn't. (I'll have to do that soon) So let me share those with you now:
Beat all my previous times at the arena's I've already run in.
Run a 3D time
Place in the top 4D and win some money
Ride with Confidence
Kick Kick Kick
When I look back at last year, which I consider to be my "rookie" year, I can see how I was very timid and nervous. I never pushed Rumor to run to the first barrel, I just let her go at her pace which is not fast but not slow. This just felt comfortable to me and it made me less worried that we would run past the first. On top of not pushing her to the first I really didn't kick much in between each barrel. I only kicked running home…and by the way my kicking style is not "starfishing" I like to keep my legs close to the horse and kick more like Sherry Cervi. Legs close only my lower leg moving so less noticeable. Even with that said, I still didn't kick much. A few taps and I was good. So in reality the times we ran were always slow because I never pushed Rumor to run.
A lot of the reason for not pushing Rumor was because I was scared to go fast. I was scared she would get hurt or that she would slip and we both would get hurt. I'm just so overprotective of my horses and their well-being that I let myself worry about EVERYTHING. Friends tell me all the time "your horse will take care of herself, let her do her job." And I get it. I now know Rumor is going to take care of me and I have to let her think for us too. I can't do all the thinking myself.
So now let me tell you about the show…
The show Saturday was the first show for a new series that started up called Da Bomb Barrel Racing. These shows are "big" money aka $1000-$2000 added and are anticipated to draw big crowds. Saturdays show most definitely did. We had 144 riders in the open.
We've had a TON of rain lately and I've been able to ride here and there but not like I really need to in order for Rumor to be in shape. So I went to this show with the thought of just going to practice and have fun. I didn't go with the mindset that I wanted to win, I truly just wanted to have fun and not worry about what we looked like or how we did.
So that day we loaded up and headed to the show and got there right as it was starting. I signed up for my class and then sat down to watch the pee-wee and youth riders. I was draw 64 so around the 15th rider I decided to head back to the trailer and start tacking up. At this point, I started to feel that today was going to be different. I wasn't nervous and wanting to hurl. I didn't have a lot of anxiety and even Rumor just seemed different. After I finished tacking up, I hoped on and we walked around. As it got closer to my turn, we warmed up by trotting and loping circles. At last it I hear my name called and so we head towards the alley. As a reminder, last year started out with horrible alley issues of her not wanting to go in and just being a pain. This time, she balked a little as we got closer but nothing like she did last year. Somehow I kept my nerves in check and I didn't even get frazzled by her acting a little silly. I just kept asking her to walk in and down the alley until we could see the first barrel. When we could I asked her to go and we were off!
We ran in faster than we have before which I feel like is because mentally I was ready to go faster and so my body was positioned for her to know it was ok too and to go. We turned the first great and as we're turning I'm kissing at her to keep going, we head to the second another great turn and more kissing at her. Now I'm asking her to go with stronger leg pressure, we get to the third turn for home and I'm kicking and kicking and kicking. I hear the announcer say 17.1 something and I'm all smiles! I couldn't believe it.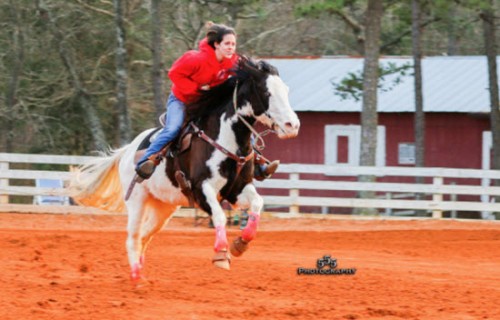 Here's the video of our run.
We beat our last time there by .3 seconds and not only that but I kicked and it just felt good! This is going to sound totally weird but the run just felt calmer. It felt right and like I experience the entire ride and not just parts of it.
I smiled so much and so hard that I swear I was on cloud 9. I thought I was going to be in the 4D at the time but after seeing results posted I actually ran in the middle of the 3D! Can you believe it! I met one of my goals in the very first show of the season!
Now I'm pumped and ready for my next show this Saturday. I'm feeling good that we are getting better and better as a team. I can't wait to see what this season has in store for us and what times we can actually get.
So Tell Me…
What was your last accomplishment on your horse that brought you a ton of joy?