For those of you who have been reading the blog for a while know that I recently started attending some of the local SEBRA Bulls & Barrels Events. At these rodeos the same horse and rider kept winning. Her name is Kristin Yde and her horse is Smack. This year the pair is ranked number 1 and have won $3,823.86! They are a tough pair to compete against and she is one heck of a good rider! Recently I met her in person and had the pleasure of interviewing her about her rodeo career.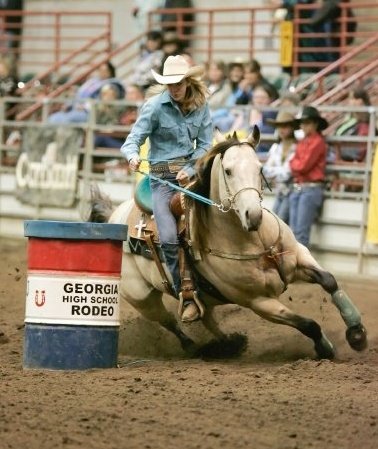 Here's a video I shot of one of her rides!
She's good huh?!
How long have you been barrel racing competitively at Rodeos?
I've been barrel racing since I was 10, though I won my first championship at 13 with EZ Run Pro, I wasn't truly competitive until around 2009 with my horse Smack.
What makes Smack the great barrel horse he is?
His personality, you won't meet a calmer nor sweeter horse. He's so willing and happy to do his job and it makes a world of difference! Not to mention he had a great foundation, he was such a quick learner.
How do you prepare yourself and Smack mentally and physically to run barrels at Rodeos?
When we get to the rodeos I unload him and let him stretch his legs, it gives us the chance to see where we are and who we're up against. I always offer some water and pamper him a little, then I go to check the ground so I have an idea of how to push through it. Mentally I like to see the barrel stakes so I can run through the pattern and get a time idea of what should win it, then I get to relax and grab some food!
Smack is always so calm coming down the alley. How do you keep him so level headed and calm before you take off?
We first changed his grain, he was on a 14% protein along with alfalfa hay, and to bring his brain back to earth we changed to a 12% protein and Timothy hay. From there, we do a lot of work in the alley way, and hardly any barrel training. I like to gain control of his hind end with brakes so we can stop anywhere, then continue to work on flexing and shoulder control. In doing so he still learns his turns via rollbacks and by using cone patterns without getting hot on the pattern.
What should beginners expect/know before going to their first rodeo?
Expect the unexpected, every rodeo is different and that's the fun of it! The ground is always different, the pattern size changes, and you never know the setup. Always have bell and splint boots as you want to protect your horse first and foremost. To prepare for anything, try to haul your horse as often as possible, even just for practice. There will be livestock, loud speakers, and several spectators, so the more your horse has seen the calmer he will be!
What is the dress code for rodeos?
The dress code is called "cowboy dress code", which consists of jeans, boots, a long sleeve button down shirt, and a cowboy hat. I recommend stamped strings to hold your hat on as it is usually a fine if it falls off.
What training tips do you have for others about barrel racing?
Always acknowledge patience and consistency. You are training an animal with its own mind. I feel that each turn is broken down into three parts- your entry pocket, the backside, and your exit. It is all about timing, you need to go in and have the time to step out, slide past, and rollback in to aim for your next pocket. I use side passing, lead changes, rollbacks, and figure eights. If you can master these, your horse can easily maneuver a turn.
Who's your idol and why?
My idols would have to be Tim and Woody Brown*. They have always been such amazing people, and I owe them the world as they sold me Smack and my other barrel horse Storm. I even recently send my 3 year old stud to them to be broken to ride. The support they have shown me has meant the world!
Tim and Woody Brown are locals here in NC that are well known for their riding and training of horses.
If you live in NC and are interested in following Kristin's rodeo career or getting lessons with her, you can contact her here!
P.s. Don't miss out on the other guest posts lined up for this week! Sign up now to recieve new posts in your inbox or download my RSS feed to your reader. 🙂