Y'all I love riding my horse in the pasture, bareback with just a lead rope and halter. I think I love it so much because it's so free feeling. I actually love it so much I've taken my horse a couple places and ridden her bareback with a halter and lead on a trail ride. Of course, I only do this because I trust my horse 100% not to do anything crazy and I know she is basically bomb proof. Nothing in this world upsets Gracie.
Now I know riding in a halter and lead rope isn't safe for many reasons. Because of that I don't do it very often anymore. As I get older, I realize I want to take less risk and be safer. But that doesn't mean I can't find other alternatives to riding with out a bit. I've actually looked into using hackamores before but the problem is, Gracie's head is too bit and nothing fits her right. I feel like I would have to buy a draft horse hackamore for her! Luckily though, around the same time I was looking for hackamores, Jacke with Two Horse Tack, reached out to me about doing a review of her bit-less bridle. Y'all know me, I love trying out new things, especially when they have a true benefit and are something I need.
So without further ado, l want to tell you about the Two Horse Tack 2-in-1 Bitless Bridle.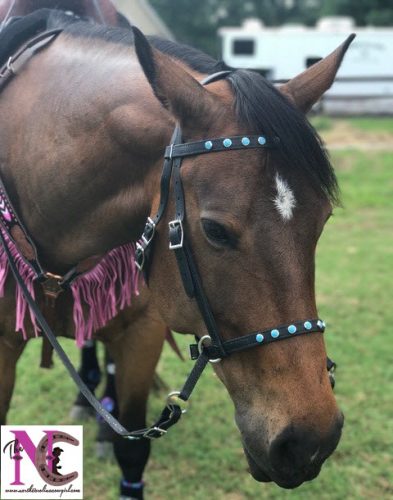 Craftsmanship of the Bitless Bridle
Let me start by saying, this bridle is made amazingly well. The leather is soft and supple. When I put the bridle on my horse and started adjusting it, it was so easy to do because the leather wasn't stiff and hard to get out of the buckles. In my opinion, this is a thinner leather then you would normally have on an english bridle, but that's what makes it so easy to adjust. Once it was on and adjusted right, there were no pressure points from it being to tight on Gracie. It truly fits her great.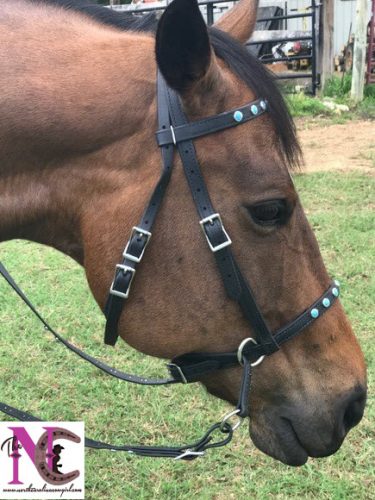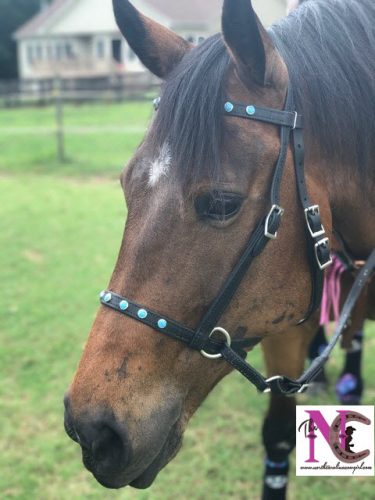 The reins that came with it are one piece and super long. I believe the website says they are 10 foot and that is likely accurate. The reins I got are meant for English riders, which is why the length makes sense to me. If I was going to use this as an everyday bridle, I would definitely want to get shorter reins. However, I told Jacke that I wanted this bridle to use for trail riding and of course when I trail ride I like longer reins so my horse can hold her head lower and stretched out. For that purpose, these reins are perfect. I like how thin and narrow they are because it makes them easy to hold. I also love that it is all one piece. There are times when I trail ride when I might lay my reins on her neck to grab something out of my saddle bags or move a limb out of the way . Well when I trail ride, most of the time I would use split reins because I wanted something long and those would come apart and fall off her neck. So with these I wouldn't have to worry about that.
Also, the bridle and the reins have jewels on them to add some color and uniqueness to each. I went with a turquoise color jewel to match one of my tack sets. Aside from the leather and jewels, the hardware is all stainless steel, so nothing on this bridle should rust!
Riding with the Bitless Bridle
Since Gracie and Rumor are my riding horses and I trail ride both, I wanted a bridle that would work on both girls. Majority of the tack I have, I use on both of them. They both like the same bit, I use the same headstalls and saddle. The only thing I can't use on both is splint boots. Gracie wears a large and Rumor a medium. Otherwise, all the tack I have is shared between both girls and adjusted accordingly.
So with that said, I tried out the bitless bridle on both girls and rode around the pasture. To make sure I had full control with this bridle, I walk, trotted and loped around.
Gracie was the easiest one to ride using this bridle. She is so easy going and laid back that she listens well in anything. So riding her in this felt no different from riding her in a normal bridle with a bit. She turned easy, stopped when I asked and didn't try to fight any pressure I applied with the reins. All in all, I thought this bridle worked well on her and I felt like I had total control. I will definitely use this next time I take her out for a trail ride.
Rumor was a little different. It's not that Rumor isn't as well trained as Gracie because she is. However, Rumor likes to test you and see how much she can get away with. When I rode her in this bridle, I had to pull harder to get her to turn and harder to get her to stop. She also figured out pretty quickly that she had more control then me so she would test me more so then she normally would if I had a bit in her mouth. I honestly felt like I didn't have a lot of control at all. If I was trail riding alone and knew I wouldn't have to worry about anyone running up behind her or taking off in front of her (cause she LOVES to run too) then I would likely ride her in this. But most of the time I ride with people and Rumor will get a little spunky and want to be in the front or start prancing. When she does that she gets head strong and with this bridle, I just don't feel like I would have enough control. So I don't believe I will be using it on her to trail ride but to ride around at home in a controlled environment, it's great.
Here are some pictures of Rumor wearing the bridle too. You can see it fits both horses really well.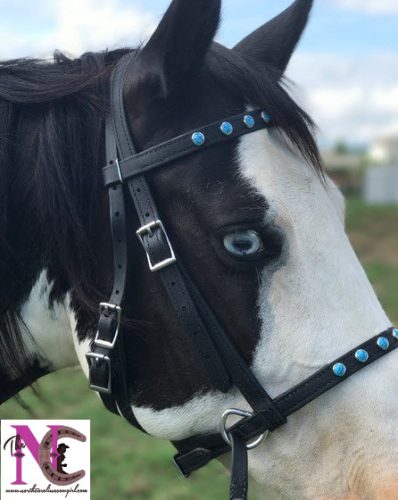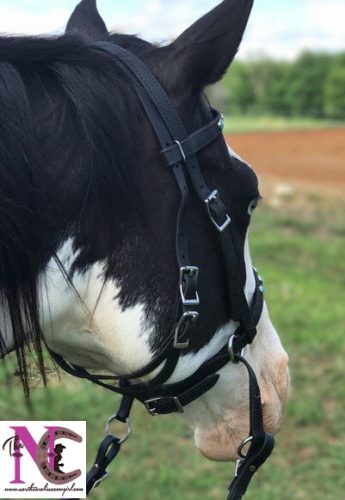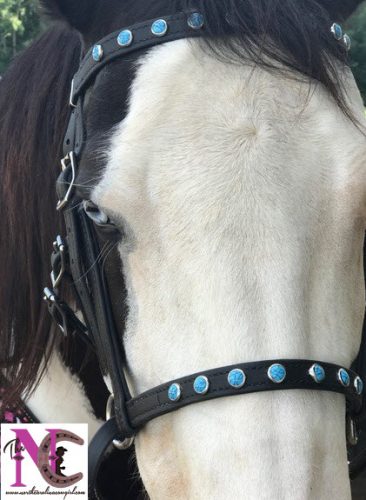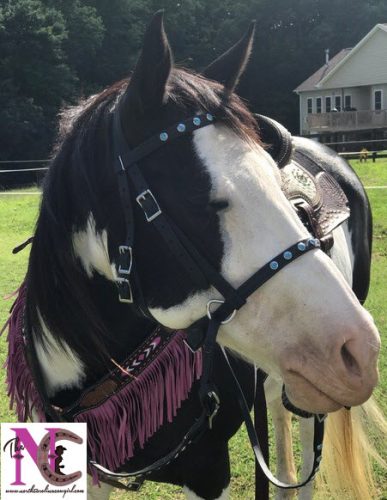 Whether you ride English or Western, Two Horse Tack's bitless bridle is a great piece of tack and I would recommend it. It's good quality for the price and functions well. If your horse is like mine, then I'm sure he/she would love to be ridden without a bit every once in a while. 😉
To see this bridle and more available by Two Horse Tack, visit them at twohorsetack.com.