Hey ya'll! Hope your weekend is going well.
I want to share a new product with you today.  If you're like me and are leery to buy new products because your unsure if you will like them and don't want to waste money, then you'll love this product. The product is a subscription based service called A Horse Box.
What is A Horse Box?
It's a monthly subscription you sign up for and you will receive a box full of goodies each month.  Your goodies could include apparel, test samples of grooming supplies and coupons for horse products.
What Came in my Horse Box?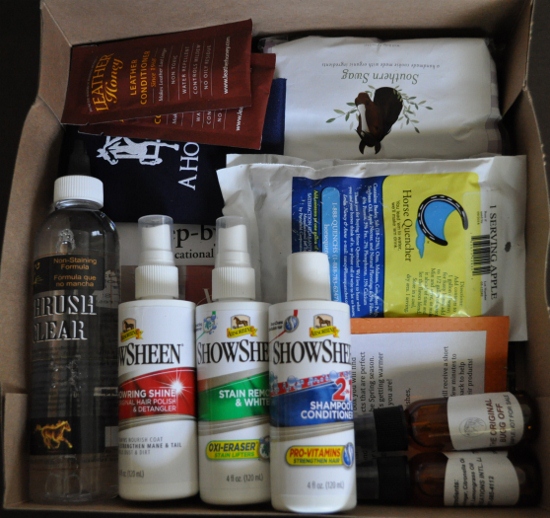 Remember when I talked about E3 Elite Horse's Detangle & Shine Spray and how much I loved it?  Well their Thrush Clear Solution was part of this month's package and I'm super excited to give that a try.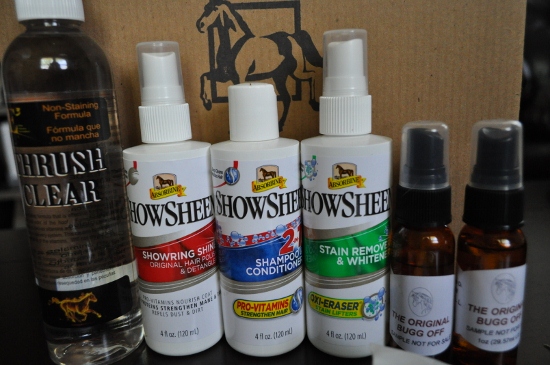 Also included is Showsheen Shampoo/Conditioner, Stain Remover and Showring Shine. I've always used Showsheen Spray on my horses to make them shine but never tried any of their other products, so I'm curious to see how good these work.
Two test sizes of Bugg Off by Cowgirl Creations was also in the box. According to the Cowgirl Creation website, this is an all natural insect repellent. This is what they had to say about it on their website.
"Finally a spray that repels stable flies, horse flies, ticks, fleas, mosquitos and smells good to boot."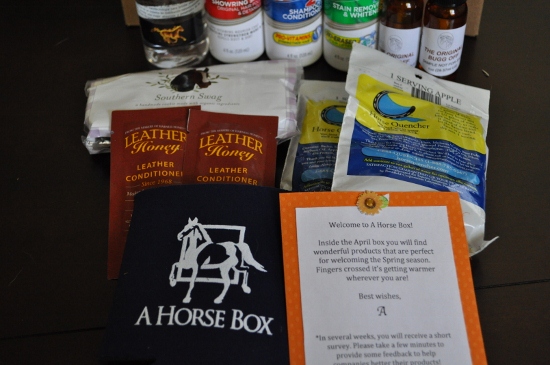 Other sample packs that were included were Horse Quencher (this is a powder that flavors water and helps entice horses to drink), Leather Honey, Southern Swag Horse Treats  by Charleigh Cookies and a Koozie from A Horse Box.
This awesome shirt also came in the horse box. This shirt is from Cowgirls with A Cause. I absolutely love this shirt!
Lastly, these information cards were also in the box.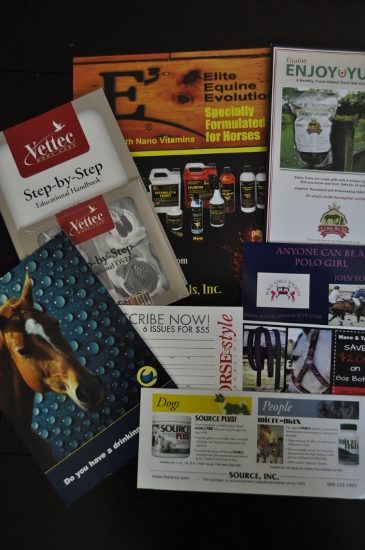 Quick Links for all the Products:
Have a great Sunday! I'm off to give some of these samples a try on my horses. 🙂
*** Just so ya know, I was asked by the company to review this product and in exchange for my review I was given this product at no cost. Update: The t-shirt that came in the box was a gift to bloggers who reviewed the boxes. Tshirts are not included in regular boxes.***