If you've been following my blog and seeing the different pictures I post of my horses, then you know I love Designer halters. My favorite brand of Designer Halters is Red Haute Horse. While Christmas shopping I came across a halter I really wanted but didn't want to pay top dollar for it. Red Haute Halters normally cost around $35 and I figured I would wait to see if it went on sale.
Well I've been randomly checking and finally I got the brake I've been waiting for! The Halter I've been wanting to get for Gracie was finally marked down and I got an email from Horse.com for 15% OFF my order so I decided to get it.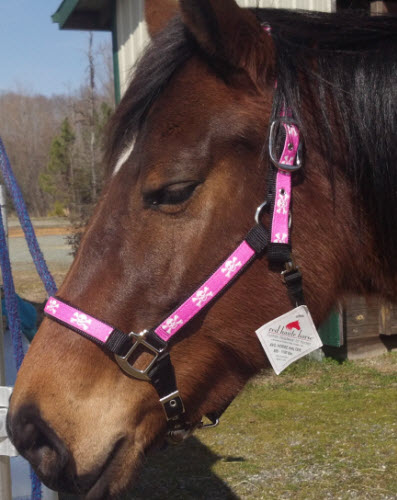 Whatcha think? Do you like it? I love the sculls and really loved it was PINK AND BLACK! Finally something in my colors.
The reason I wanted to show you my halter was (1) to show it off and (2) because these halters are awesome and last forever!! I have 2 others halters from them that I bought a few years ago and they still look great. The hardware hasn't started to rust and their completely adjustable so if you have a horse with a big head like Gracie, you can adjust the nose strap to be bigger.
My biggest problem with halters is finding ones I like that aren't plain jane and being able to afford what I like. I love Bronc halters but they are so expensive and I don't want to spend $100 for one. So I looked for something I liked just as much but would cost a lot less. That is the reason I am sharing these with you. 🙂
Have a great day! Don't forget about #FitHorse Week 2.
What's your favorite brand of halters? What makes them so special?
***I was not asked or paid in anyway to promote these halters. I'm simply sharing this information with you because I know we're all on tight budgets and need cheaper alternatives to the expensive tack that's on the market. Plus, I wouldn't have known about these halters if a friend hadn't shared them with me, so I'm guessing others don't and wanted to spread the word. 🙂