Disclaimer – This is a sponsored post brought to you by Equi-Spa. All opinions are 100% my own.
Hello! How has Spring been treating you? Have you had to break out fly spray for your horses yet?
It's been so nice here in NC. The weather has stayed cool and in the 70s/80s, it's rained A LOT (but I'm not complaining because that means hay is growing!), and its been relatively bug free. Normally by this time we would be dealing with pesky horse flies, gnats galore and tons of ticks. I'm sure those days are coming though.
I'm prepared and ready for flies though. My go to fly spray has always been RepelXp. I like that it kills flies and ticks. I feel like it helps to keep my horses safe from their bites and more comfortable not having to constantly swish their tail or stomp to get the flies to leave them alone. I actually have sprayed myself with it too before I trail ride and I believe it's the reason I haven't had a tick on me in a long time. However, I realize it is a chemical and the label says not to let it touch bare skin.
This year I wanted to test out a safer, more natural fly spray. Something that didn't have harsh chemicals but still had the power to repel flies and ticks. So I chose to test out Equi-Spa's Peppermint Summer Protection Fly Spray. It's an all-natural solution that smells heavenly. I've been testing it out now for a few months and am almost through my 1st bottle.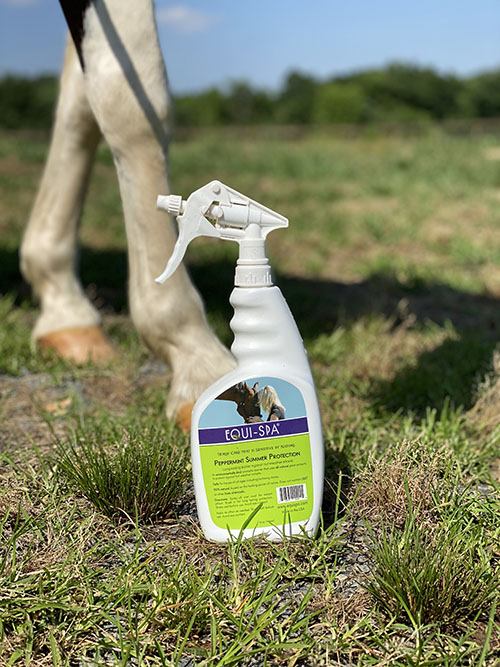 Testing of Fly Spray Included
Spraying my horse down before trail riding
Spraying my horse before riding in my pasture
Spraying for turnout
Spraying myself before trail rides
Spraying myself while in the barn doing chores
What I've Found
It smells wonderful! As mentioned, to me the smell is heavenly and makes you want to keep squirting. I actually have to tell myself to stop spraying my horse down, so I don't waste it.
It works! I haven't been bothered by flies when riding but I'm not sure if it would work on ticks since I haven't had a problem with them yet. However, I will say, the trail rides I've ridden are a couple hours at most. So, if you're wanting something that will work for longer periods, I can't say if it will or won't but I would urge you to pour some in a small spray bottle and keep it with you while riding. Then you can reapply as needed.
Pros & Cons – Equi-Spa Vs RepelXp Fly Spray
PROS:

It's natural and doesn't include chemicals

5 Star Ratings by customers

Can have other uses too (i.e. it will repel the pesky orange bugs that bite and bother you around pools)
CONS:

It doesn't kill flies. Personally, I like to see the flies fall to the ground when I spray them. It makes me feel like my fly spray works. With this spray, flies leave when you spray it and don't come back BUT they don't fall and die.

More expensive. You'll spend less on RepelXp concentrate to make gallons of spray then you will to buy gallons of Equi-spa spray.
All in all, I'm happy with this fly spray and do think it works.
I want to also say, I am super impressed with this company's way of shipping their product to you. They make sure the bottle is tightly sealed so it won't leak and for added protection they ship the bottle in a sealed bag! Needless to say, I didn't have a mess to clean up or deal with when I got the product.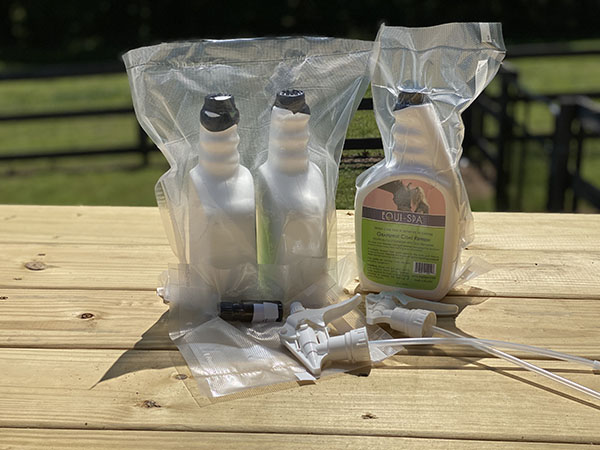 Stay tuned and check back soon, I've got other Equi-spa products I'm excited to tell you about in the coming week.
So Tell Me..
What's your go-to fly spray? Why do you like it so much?