Part 1
The cowboy hat is one of the most iconic pieces of a cowboy or cowgirl's wardrobe. We see it as part of costume outfits, we see cowboys wearing it in movies and we even read about it being worn by characters in books. If I had to guess, the cowboy hat is the first thing that people picture in their mind when they hear "cowboy" or "cowgirl." It used to be that you would only see cowboy hats worn by men and women on working ranches, rodeos or in shows. However, today the cowboy hat has become a fashion statement that is seen outside of those places.
Over the years, cowboy hats have grown and become more of a fashion statement. They are no longer just plain felt hats. Now you see many different styles of hats ranging from your plain jane felt or straw hat to an embellished hat and even hand painted hats. Finding the right hat has never been easier and there is a hat for every personality now!
I'm a little embarrassed to admit this but I actually only own one cowboy hat. It's a plain straw hat I bought to wear if I attended any shows where a hat was required. I've never worn it either. When I bought it, I thought it was the most awesome hat ever and bought the size the person in the store told me I needed. It didn't take long to realize I wouldn't spend much time wearing my new hat. It was so tight it would give me the worse headaches and it put way too much pressure on the front and back of my head. That person who told me I needed the size I bought lied. To this day, that hat continues to sit on a shelf in my closet and collect dust. I avoid shows where a hat must be worn just because I don't want to wear mine.
Not anymore. Now I have the perfect cowboy hat and I couldn't be more excited to show it to you guys.
As luck would have it, Hatcountry.com reached out to me a few weeks ago and asked if I would be interested in sharing their company with you guys. After talking back and forth I explained to them my lack of knowledge regarding cowboy hats and my bad experience trying to find one that fit me well. I explained I really needed one that could be used for riding, particularly at shows. Of course, who am I kidding; I want one that would make a fashion statement too. Who knows when you'll want to wear it to a country concert! 😉 So began our new partnership of finding me the perfect hat and making sure I get one that will fit perfectly.
To begin with, Hatcountry was gracious enough to let me browse their site and pick out any hat that I liked. OMG do they have a ton of hats! I mean it was almost overwhelming looking at all the hats they have. Cowboy hats made from straw, felt and leather. Well for quite some time I've been dying to have a Charlie 1 Horse Hat but I've never pulled the trigger and bout one because I was so scared to make the same mistake again. As soon as I saw Hat Country sold Charlie 1 Horse Hats, I went straight to them and started to see what was available. It didn't take long to find the perfect hat either. I picked out the Charlie 1 Horse Bad Influence Hat. I loved the lace and the little pops of silver bling on a black hat. This was just the hat I wanted.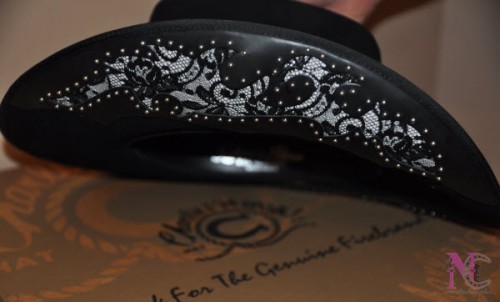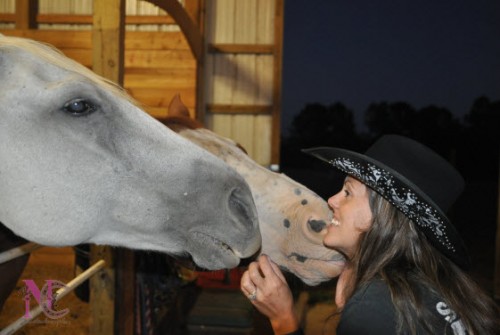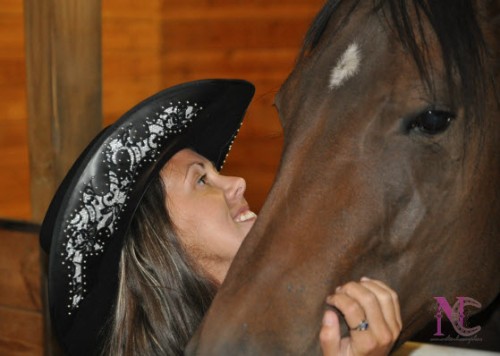 Come back tomorrow for Part 2 – How to Pick the Right Size Cowboy Hat!