Howdy Y'all! I've got a fantastic new product to tell you about. I am so excited to share this with you because I know you'll love it!
Last week I was contacted by E3 Elite Equine and asked if I would be interested in doing a product review for them. After looking over their product line and familiarizing myself with it, I decided I would love to give the Detangles & Shine Spray a try.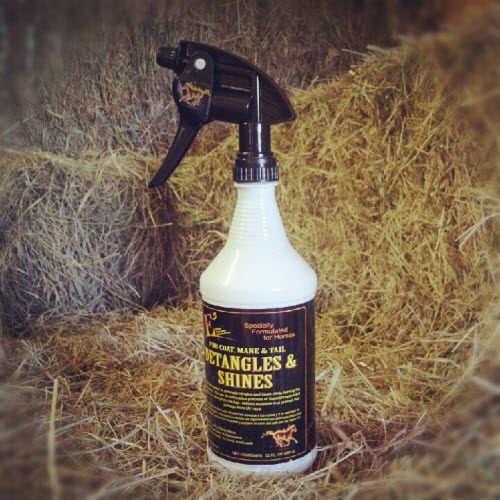 Now I'm going to go ahead and tell you, I've been a loyal user of Show Sheen for the past 25 years and I've found nothing that compares even remotely in my opinion. Well until now anyway.
Let me tell you, this spray is AMAZING! I absolutely, positively, love this stuff! Lately Te Mans mane has been twisting and curling into tight little knots that have been hard as heck to get rid of. I hate trying to pull the knots apart because it rips his mane out and as you can see from the pictures he doesn't have much mane to begin with. Now I've been bathing him and after his baths I'll spray his mane and tail with show sheen so I can brush it out easily but for some reason it still was staying knotted up.
Well not anymore. I decided I wanted to try out the spray without  bathing him first and boy did it work wonders. Take a look at the before and after pictures I snapped. In the before picture below you can see his mane is stringy and dull looking.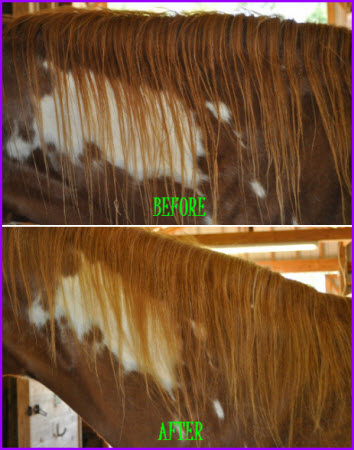 Doesn't it look ten times better in the after picture? All I did was spray on the solution give it a couple seconds to sit and then brush. Not one hair was pulled out when I brushed him and afterwards his mane was silky smooth and shiny.
Same for his tail. Check out the before and after pictures of it below. In the after pictures you can see his tail looks better and healthier even. Again, all I did was spray in the solution let it sit a few seconds and then started brushing. I was amazed at how easily the brush combed through his tail. It literally took me less then a minute to completely brush out his tail and again no hairs were pulled out in the process.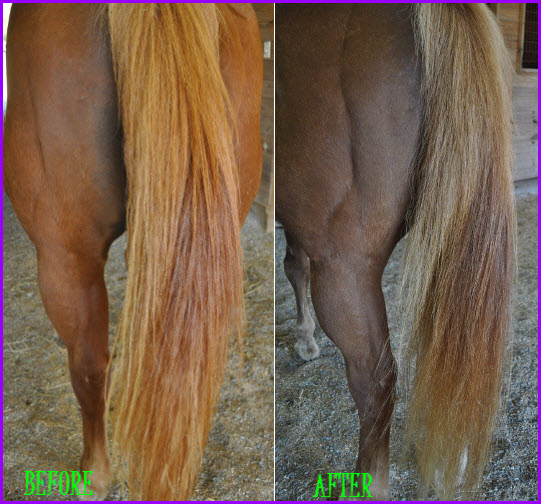 I tried the spray out on Sunday before I went riding and since then have not had to brush out Te's mane or tail because it still looks like its been freshly combed and there are no knots! Both his mane and tail are still super shiny too. I'm telling you this product is the real deal and does exactly what it says. Not only does it work but it also costs about the same as Show Sheen.
Now if you're like me I know you probably are loyal to one product because that product has worked for you for so long. But if you don't give this Detangler a try, you're missing out..and I know you don't want to be missing out, now do you? 😉
So tell me, what other new products have you tried lately and liked? 
P.S. As I stated above, I was asked by the company to review their product and in exchange for my review I was given this product at no cost. However, I have always and will always tell it like it is, so if I don't like something I will be 100% honest about it. Sooo..if I say it's good, take my word for it, it must be good. 🙂