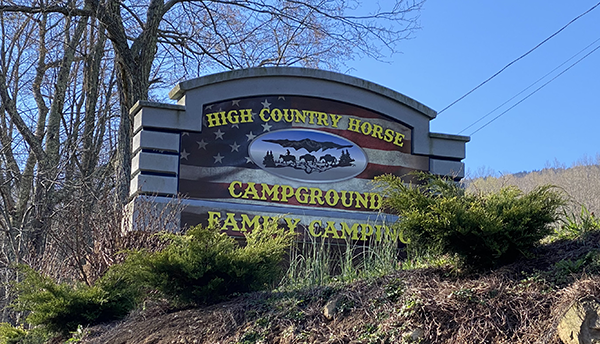 My love for riding horses in the mountains is now expanding to a love for camping in the mountains at High Country Horse Camp. For those that have been long time followers of the blog, you know I LOVE trail riding at Mt. Rogers in Virginia. Normally when I visit I would stay with friends, but this year I bought a new LQ trailer and have got back into camping.
I've already stayed a couple times at High Country Horse Camp and loved each stay. The first time I went with a friend and the second time I went alone. Both stays were wonderful and peaceful thanks to the hospitality of the owner Pete Bartel. His friendliness and generosity when you show up, makes you feel right at home during your stay. The first time I stayed my friend didn't have a long enough electric cord and Pete offered her an extension he had on hand. He made sure we got all set up and everything was working properly which is different from the other places I've stayed. Normally no one comes out and checks on your in the campground and the only time I talk to anyone is when I check in. So I love that he actually gets out and interacts with guests.
High Country Campground Overview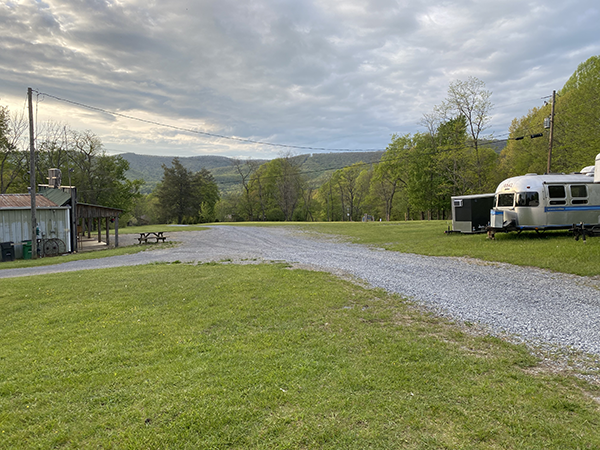 First off, let's talk about the mountain view, it's beautiful. I love staying here and seeing the sunset across the mountain. Not to mention, the cool mountain air and how open the campground is. To give you an idea of the camprgound layout (based on the above image), there are numerous camp sites with electric and water hookups. The right side of the image in the grass is where trailers/campers would be parked. The building in the left of the picture is the office situated in the middle of the campground.
Things that you need to know before staying:
Pete lives onsite and is available should any need arrive.
There is a bath house with separate men and women's bathrooms. Hot and Cold Water.
WIFI is available throughout the campground.
There are nurmerous sites and horse stalls.
The campground is on a slope so you'll need to be prepared with blocks to get your trailer level.
Here are more photos of the campground to give you an idea of what to expect: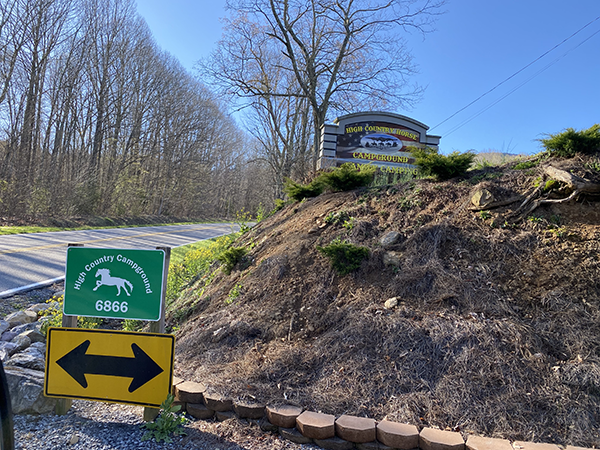 Horseback Riding at High Country Campground
The horse camp is situated on the Elk Garden side of the mountain. Meaning you can ride out directly from High Country Horse Camp to Elk Garden and make a day of riding or just ride as long as you want.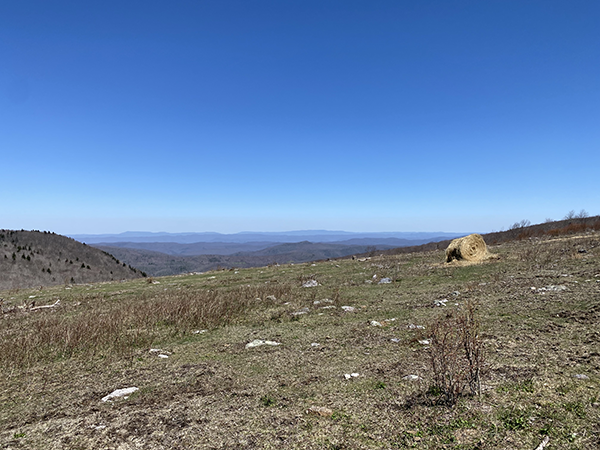 However, if you want to see other parts of the mountains, like the Scales and the ponies, then Pete will trailer you out to other trail heads! So you don't have to unhook your horse trailer if you want to see different sides of the mountain. If you like longer trail rides, he can drop you off at the trail head to the Scales and you ride back to the campground; which would take 6-8 hrs depending upon how many stops you make and your horses walking pace.
Below is a picture taken at Rhododendron Gap at Mt. Rogers. It's my understanding you would come through here if you rode from Scales back to Elk Garden and then on to the campground. Rhododendron Gap is known for the beautiful flowers when it's in bloom and the large rocks you can climb to get a 360 view of the mountains.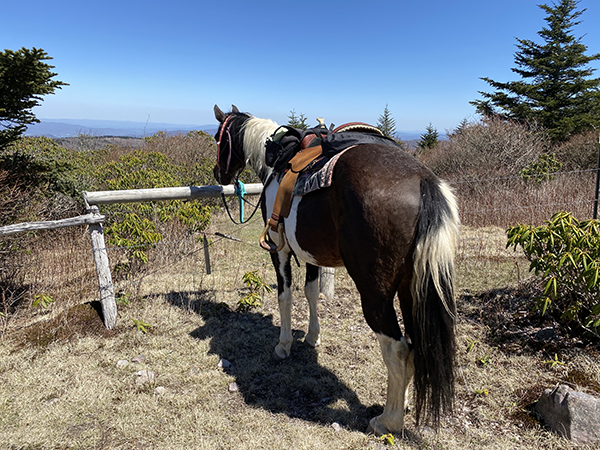 There is also a 2 mile short trail from the campground to a waterfall.
Visiting High Country Horse Camp
To Book a Stay at High Country –> Visit the Facebook Page. Here you will find email and phone information or you can reach out to Pete via Messenger.
As always, PLEASE let him know you found out about High Country from the NC Cowgirl. 🙂 If you have any questions about the campground, leave them in the comments and I'll answer the ones I can.