Fall is finally here and I couldn't be more happy about it then I am! Fall is my favorite season for many reason but one of them is because I love to camp during this time of year. I love going camping in the mountains so I can see all the bright and beautiful colors of the leaves changing. I love waking up to cool crisp mornings. I love the smell of fall especially when you're sitting around a campfire on a cool starry night and it has that burning wood smell. Something about Fall brings out my creative side and recharges me. This time of year really creates a spark in me and right now I could really use that.
It's actually 7:40am right now and I'm sitting outside in my camping set up as I write this. The sunrise was gorgeous this morning and I'm so glad I got up to experience it.


Of course, I'm a morning person so don't let me fool you. I didn't set an alarm to get up, my internal clock went off at 6:30am and told me to get up and start the day, LOL.
Anyway though, enough about my morning. Today, I want to share with you my camping essentials for when I take my horses places to ride and camp. It took me a while to figure out what all I needed and so I thought I could share what I have (so far) to help you make sure you'll have everything you need for when you go camping.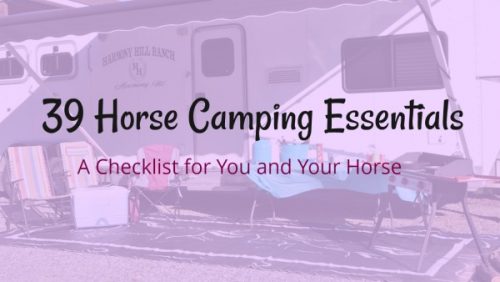 Horses Camping Essentials
Panels – now depending on where you camp you might or might not be able to use these. But I keep them packed in my trailer for every trip. (BTW, if you don't have any, check out my DIY Build Your Own Panels Post)
Water Buckets
Feed Bucket
Bag of Shavings
Hay Bags
2-3 Bales of Hay
All my riding gear
Halters & Leads – with name tags
Pitchfork
Stable Sheet
Back on Track Boots
Linament
Standing Wraps and Quilts
Outside Camping Essentials



Folding Table
Chairs
Camping Mat – (also got from Amazon and love it!)
Broom
Cooler
Fire wood
Fire Starter
Matches
Lantern / Flashlights
Inside Camping Essentials
Eating Utensils – I keep both metal and plastic utensils
Plates / Cups / Bowls
Napkins
TP
Paper Towels
Plastic containers / plastic bags
Trash Bags / Trash Can
Cookware – Skillets, pots, pans for convection oven
Waffle Maker
Coffee Pot
Warming Tray
Ice Maker Trays
Towels
Personal Hygiene Items such as: shampoo, body wash, toothpaste, soap, etc
Movies for rainy days or late nights
A Good Book
So far everything I've listed out has been all I've needed when I've gone camping. What we seem to never have packed right for each trip is food, beer and clothing, LOL.
So Tell Me…
What are some of your camping essentials for yourself and your horse?