Hey Guys! It's been a while since I've had a new fashion post, so I'm pretty excited to share these new clothes with you. 🙂
A couple weeks ago, Noble Outfitters reached out to me to talk about their new Spring Collection which included some cute shirts and tanks. Since I'm a shirt and tank kind of girl, I figured this would be a great match. Not to mention, I hadn't heard of them before and wanted to learn more about the company.
After doing some research, I learned that they sell apparel, muck boots, gloves (cute ones!), socks and more! My first impression was that most of the gear is more for an English Rider but some could be for a western rider. Funny enough, I've actually had a strong desire to get back into jumping again but that's a discussion for another day.
So anyway, Noble Outfitters was gracious enough to send me a couple shirts to try on and give my opinion about.
Let's first start with the Gwen Short Sleeve Performance Mock. This shirt is super light weight, extremely comfortable and really cute! I love the zip up front and that it doesn't go down to far. I hate ones that zip to low because I'm always worried when I'm riding something will happen to the zipper and my boobs will be showing. This shirt fits really well too. I am wearing a small which seemed to be my perfect size. It wasn't to tight and wasn't to lose.
After taking the pictures, I rode and workout in the shirt because I wanted to see how flexible it would be when I was stretching my arms out riding and if it would retain sweat or wick it away like its suppose to do. For both situation, it was fantastic. I couldn't even tell I had on a shirt because it stretched right along with any movement I made and felt airy. It was in the 80s yesterday and not one time did I get hot in it. It was comfortable to workout in as well and didn't retain any moisture.
This shirt gets an A+++ in my opinion. Oh and let me tell you, Gracie had a nose bleed again yesterday (I will be posting about this soon) and some blood got on the shirt. I was so sad thinking it was going to be stained and ruined but as soon as I was finished with her and before it dried to much, I rinsed the spots off with water and they were gone! No Stains and it dried SUPER FAST! I'm telling you this shirt has to be the perfect barn shirt for me because I'm always getting dirty and ruining clothes with stains, so knowing this one can handle getting dirty and still coming clean makes it my new favorite barn shirt.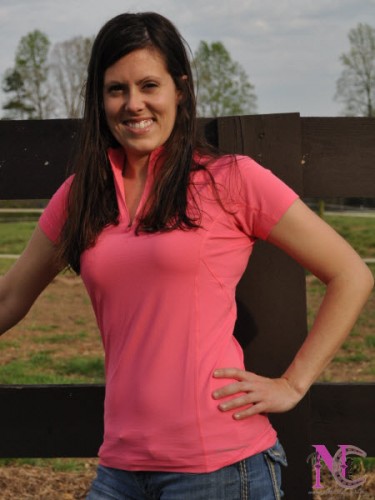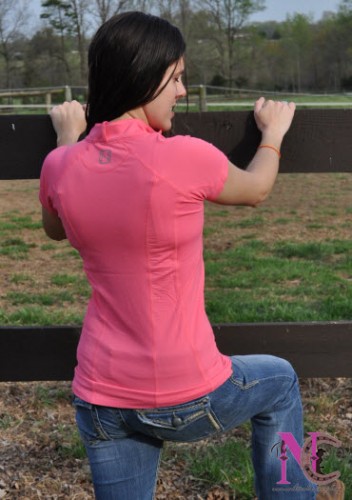 The next look is the Lil' Lovers Tank. I have to be honest, I'm not 100% sure if I'm all for this one or not. I like the way it feels, I like the way it looks in the front but in the back..ehh. I loved the way it looked on the model in the pics but once I put it on, I wasn't so sure of it. I felt like the back just didn't fit as well and was too bunchy. I liked that it was lose fitting because I hate tight fitting tanks but I just felt like it wasn't as figure flattering as it was pictured for the model.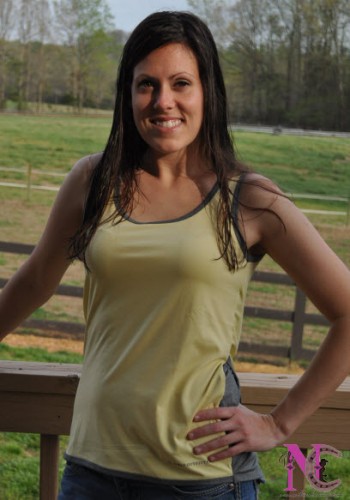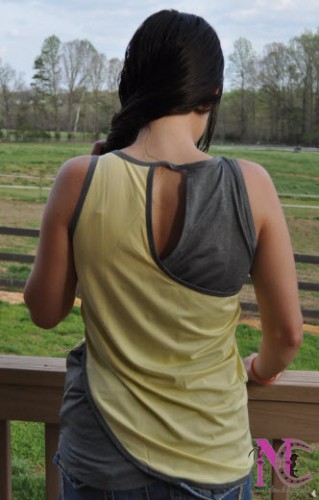 Here's how it looks on the model. See what I mean by it looks like it fits her better.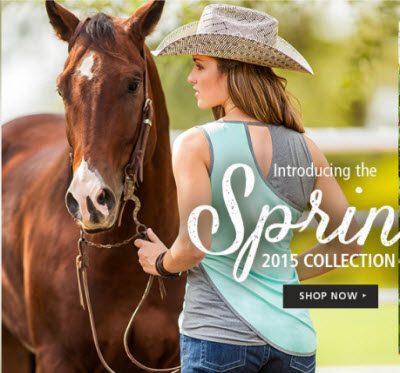 Regardless though, this tank isn't going to be filed into my drawer and never worn again. I do like it enough to want to wear it and it will be the perfect tank to wear at outdoor barrel races. Since it too has the Opti-Dry Technology which wicks moisture away, I'm thinking it will keep me from being soaking wet with sweat like I am with cotton shirts and tanks.
And I had to add these two pictures in. Jill and Midnight wanted their pics too! I couldn't leave them out. 😉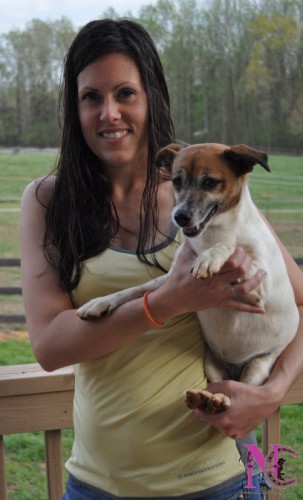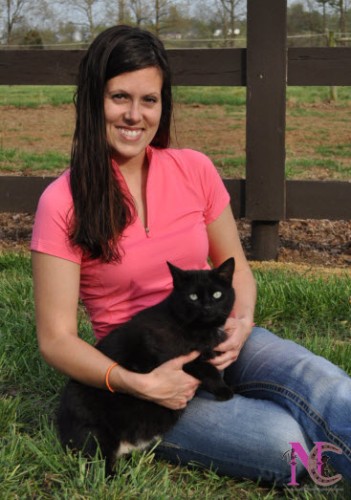 For Quick Reference:
Click Here to order the Gwen Short Sleeve Mock – Cost is $67.99
Click here to order the Lil' Lovers Tank – Cost is $24.99.
P.S. Stay tuned. I have a giveaway coming up and one lucky winner will win a pair of Noble Outfitter Best Dang Socks!
*** Because I'm always honesty with my reviews..I was asked by the company to review these shirts and in exchange for my review I was given these products at no cost. However, that does not change my opinion and I will always be 100% honest with you. ***