THIS POST HAS BEEN UPDATED – SCROLL TO THE BOTTOM FOR UPDATE
The #1 thing I dislike most about horses and summer is the fly problem. You know the problem, flies bothering your horses and buzzing all around their eyes, bodies and you. Horse flies, mosquitos, knats and the list can go on. For years and years, I've done my best to keep the flies out of my horses' eyes and face with a fly mask but none really hold up well. The ones with ears always come off and then I'm left to search for it inch by inch in the 12 acre pasture. The expensive ones that are supposed to be the best get flimsy and worn out faster than the cheap ones and heck they come off too. Honestly, the only fly masks I've ever had and liked are the cheap Super Masks. Not only do they last FOREVER but they also come in cute patterns and colors. They even hold their shape better than the high dollar ones.
While my love for Super Masks will never falter and I will probably always own 2 or 3, I have now found a new fly mask I love. That fly mask is the Guardsman Fly Mask by Noble Outfitters. I've had this fly mask now for a little over the week and put it through normal wear with Rumor. She is my little Houdini and will get every fly mask off that I put on her. So I really wanted to see how this one would hold up with her wearing it. After days of being turned out in it, it stayed on and kept its shape. Wasn't near as pretty and clean as it was before she started wearing it which told me she was rolling around and really putting it to the test. When I would take it off there were no rubbing marks on her face either.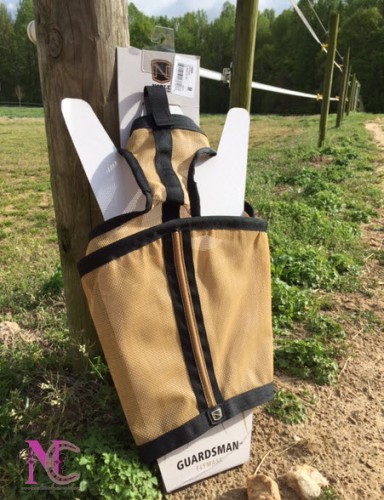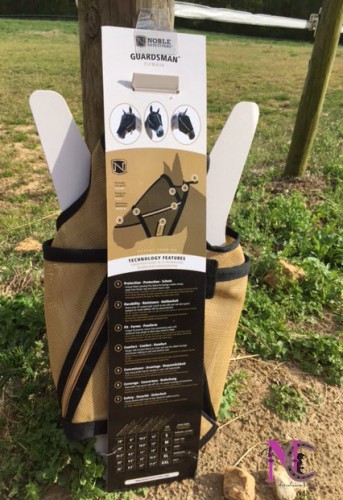 Since Rumor has blue eyes and one pink skin eye, she is susceptible to cancer and eye problems. So not only is a fly mask used to protect her eyes from flies but I also keep it on her to protect her eyes from the harmful sun rays. The Guardsman fly mask provides UPF 25+ protection and UV protection.
Funny story from this weekend, so Rumor and I had a barrel race Saturday and while I wasn't riding I would keep the fly mask on her. It was really sunny, so the main purpose for leaving it on was just to protect her eyes. While I was hosing her off after my run, a little boy walked over and asked why I had "blinded" my horse. I explained to him she could see through the mask and what the main purpose was but it still was funny to me that someone thought I was purposely "blinding" my horse. LOL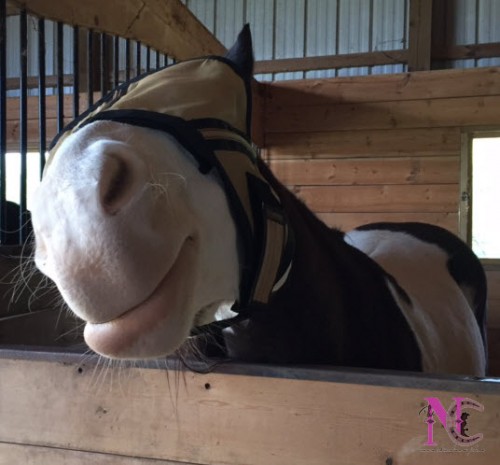 Does that happy face look like she's blinded?!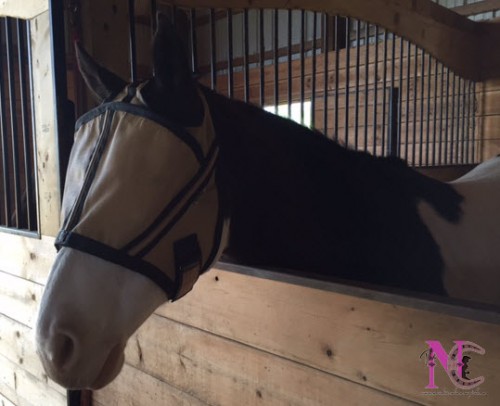 What I love about this Fly Mask for Horses
The heavy duty design of the mask. I like how the mask is already molded into place and doesn't fold up or bend to the inside. When placed on my horses face, the places that cover the eyes are pushed out and don't touch the eye lids. When she rolls I don't have to worry about it folding in or dirty getting stuck in it and then getting in her eye. This fly mask is shaped well.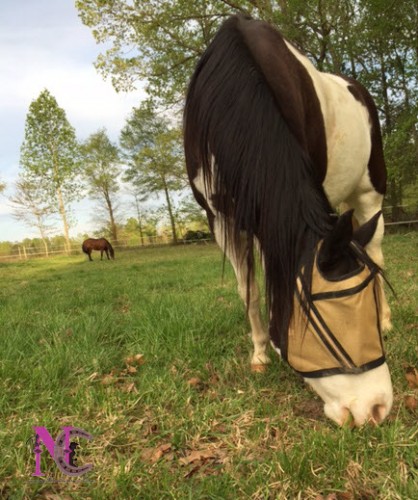 The removable nose piece. It's pretty awesome that the fly mask has a removable nose piece that is held on with Velcro. It's super easy to attach and remove.
The color. I really like the color. They have plain Black or Gold. I chose to get the Gold so that it would be easier to see in the field if it were to come off. I also thought Gold would look better on my black and white pony versus black.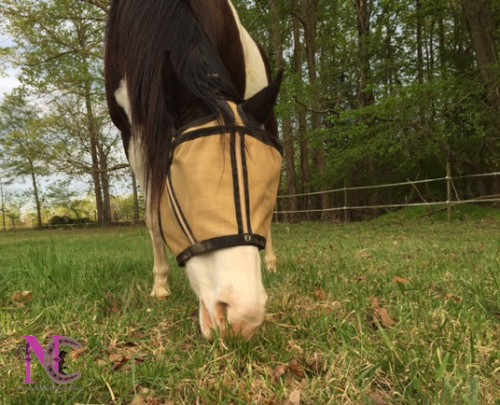 The Built on Name Tag on the strap. I didn't even realize this was on the strap until I actually put in on her head. It was then that I saw it and thought what a great idea! I always have wrote my horses names on the fly mask just in case it got mixed in with someone else's stuff. So this was great. No more buying color markers so the name shows up on a black strap, now I can use a black marker and write it on the tag!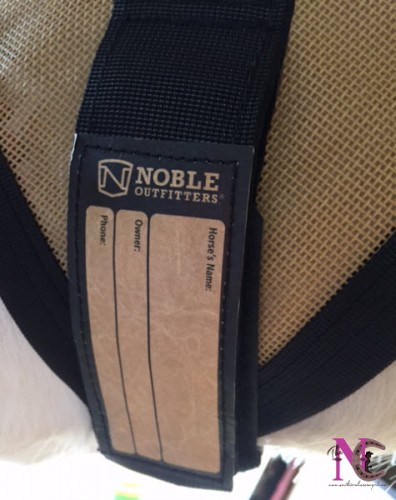 This really is a great fly mask that I would highly recommend. Price wise it is what I consider expensive at $25; however, I totally feel the quality makes it worth the price. I wish they had more than 2 colors but hopefully more colors will come in the future.
If you're liking the sounds of the Guardsman Fly Mask you can buy your own or learn more, by going to http://www.nobleoutfitters.com/products/guardsman-fly-mask.
UPDATE 1/19/17:
I wanted to give a quick update on this product since I strive hard to be as transparent about the products I test out as possible. I've now had this fly mask for 9 months and it's starting to fall apart. It has been used almost daily since I got it since I use both for fly and sun protection. So even though it's winter, Rumor still wears it if it's a sunny day. Here are some pictures of where the fly mask is coming apart. It seems to only be happening at the ears.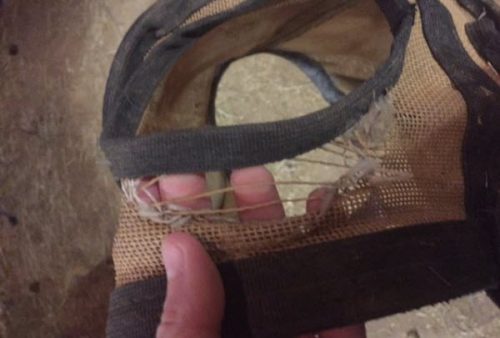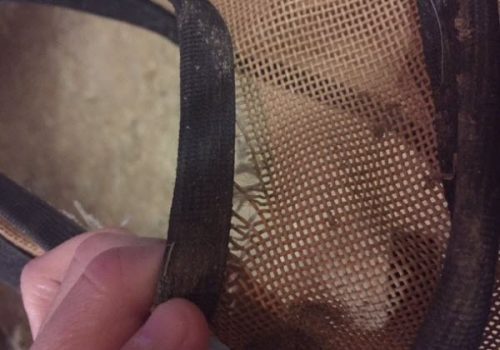 Based on how quicky this is tearing apart, I'm going to say by this weekend I will have to trash this fly mask. 🙁  To be honest too, I'm shocked it fell apart so quickly. My Farnam fly masks have last years and years and this one seemed like better quality but it sure hasn't held up long. I have reached out and shared the pictures with Noble Outfitters so they can work to improve this product and prevent it from happening in the future. Anyone else have this fly mask? Is yours coming apart?
So Tell Me..
What is your favorite brand of fly masks for your horse(s)?
If you like Noble Outfitters, then you'll love these other posts!
*** Because I'm always honest with my reviews..I was asked by the company to review this fly mask and in exchange for my review I was given the product at no cost. However, that does not change my opinion and I will always be 100% honest with you. The Fly Mask just rocks!***